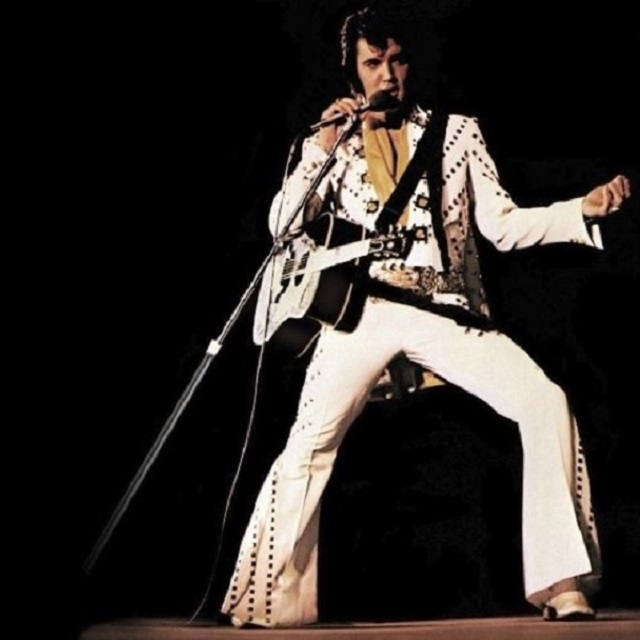 An astonishingly accurate homage to Elvis iconic Las Vegas period, Suspiciously Elvis features an awesome band, a troupe of dancers and a brilliant performance from the UK premier Elvis impersonator. This fantastic show always sells out at Boisdale so book well in advance.
Suspicious Minds, Burnin' Love, Love Me Tender, American Trilogy, A Little Less Conversation and many more…
"Sheer Brilliance" The Sun
"Whether you are an Elvis fan or not, this show is great entertainment" The Scotsman
"The year is '76. The city is Vegas. The show is The King himself Elvis Presley. In a masterpiece of showmanship that will leave you cheering for more, Ivor is as witty and self-mocking as only Elvis could be. Get out the flares and the frilly shirts and treat yourself to a 80's night Las Vegas style."What's On Stage
"The show itself was unforgettable - the best ever 'Elvis' performance I have seen. The hairs stood up on the back of my neck as he came on stage and the excitement continued! The band, including brass section and feather girls were truly on form" Ruby via Tripadvisor
*Please note your dining time is 7.00pm (Excluding lounge tickets) - if you wish to change this to an earlier or later dining time please contact our reception team after you have purchased your tickets on 0207 715 5818 or email reception@boisdale-cw.co.uk attaching your ticket.
BOISDALE OF CANARY WHARF
Jools Holland, Boisdale's Patron of Music presents the best in jazz, blues and soul.
About the venue: https://youtu.be/SJhROJnoJLQ
Boisdale of Canary Wharf is a two-floor venue overlooking Cabot Square which comprises a restaurant, four private dining rooms, Oyster Bar & Grill and Cigar Terrace, the world's greatest Whisky Bar, and the best live music in the capital.
"London's number one jazz venue" Tatler
"Best Whisky Bar in the World" Whisky Magazine
"A carnivore's dream" Evening Standard
"Aged steaks are deemed incredible" Square Meal
"The world's most individualistic style bar & restaurant" Hot Tickets
FOLLOW US:
Facebook: https://www.facebook.com/BoisdaleRestaurants
Twitter: https://twitter.com/boisdaleCW
Instagram: https://www.instagram.com/boisdale_uk/
Website: https://www.boisdale.co.uk/