Jake Shimabukuro: Christmas In Hawaii
$45.00 - $55.00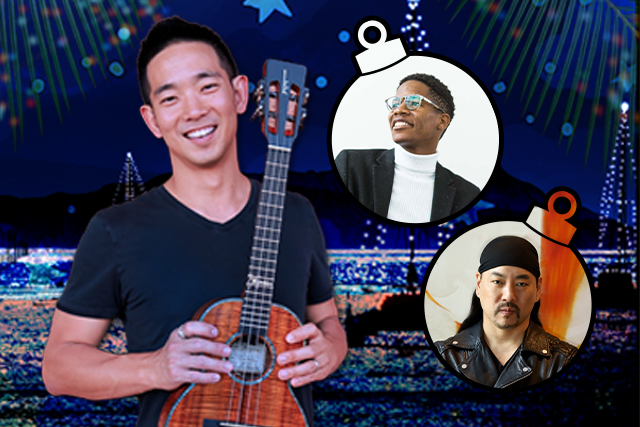 PLEASE NOTE:
Due to a city mandate, all attendees will be required to show proof of vaccination or negative test, taken within 48 hours of the event, along with a valid photo ID for entry.

Click here to view seating chart full screen.

Jake Shimabukuro: Christmas In Hawaii
Ft. Thunderstorm Artis & Taku Hirano
With only four strings, Jake Shimabukuro is a humble master whose mission is to connect and inspire people. Whether one on one or in front of an audience of thousands, Jake shares a deep emotional connection with the listener that is open, magical and transcendent.
Often referred to as the Miles Davis, Jimi Hendrix, Bruce Lee and Michael Jordan of his craft, Jake delivers performances around the world with an out-of-the-box blend of stunning virtuosity, deep musicality and a natural entertainer's flair.
Jake takes the ukulele to places no one has gone before, performing awe inspiring music that ranges from jazz, blues, and rock to bluegrass, classical, and folk.
Thunderstorm Artis is a singer-songwriter born on the North Shore of Oahu. Thunder's music crosses many genres including folk, rock, soul and country, and has been known to jump into Bowie, Beatles, Elton John and a heart wrenching version of Leonard Cohen's "Hallelujah." No matter what Thunder sings or writes he does it from his heart. Thunder's upbeat music and infectious smile bring people to their feet at every stop. Thunderstorm has shared the stage with Jack Johnson, Mick Fleetwood, Booker T and opened recent tours with G Love and Mike Love.
Taku Hirano is one of the most in-demand percussionists of his generation — a musical chameleon onstage and in-studio, whether supporting iconic artists or fronting his own projects. He has worked with everyone from Stevie Nicks to Stevie Wonder, Dr. Dre to Dr. John, and referred to by rock legend Mick Fleetwood - founder and drummer of Fleetwood Mac - as his "Secret Weapon" and "not only a master percussionist, but an incredible musician."
We are open. And your safety is our priority.
You MUST wear a mask to enter. You may take off your mask while seated at your table however if you get up for any reason you MUST put your mask on. This is for your safety and the safety of everyone in attendance. We will offer contactless payment options and hand sanitizers throughout the club.
Mahalo for your kokua, and for supporting live music in Hawaii.
__________________________________________
Seating is First Come, First Served
$10 Food or Beverage Minimum Per Person Inside Club
Full Bar & Full Dinner Menu Available
No refunds or exchanges.
Please make sure you purchase tickets for the correct date and time. Mahalo!