Saks Fifth Avenue Hawaii Presents
Mākaha Sons
$25-$35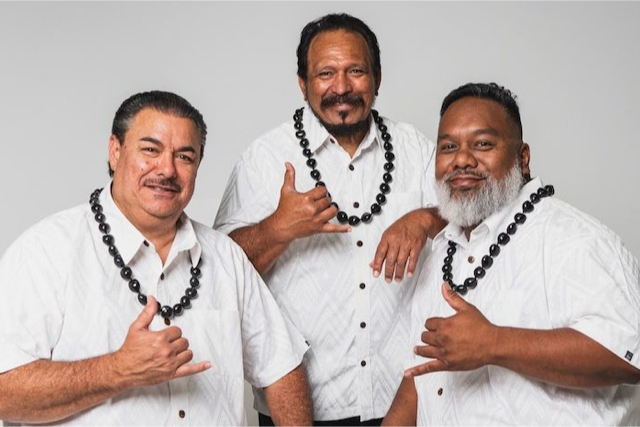 Click here to view seating chart fullscreen.
Makaha Sons
The Mākaha Sons are considered to be one of Hawai'i's premier Hawaiian music groups. The Sons have won multiple Nā Hōkū Hanohano awards, including the Lifetime Achievement Award, and were also inducted into the Hawaiian Music Hall of Fame. For 45 years, The Mākaha Sons continue to perpetuate traditional Hawaiian music in Hawai'i and throughout the world. Their incomparable vocal arrangements and delightful stage presence is filled with comical antics that have won the hearts of thousands of fans worldwide. Their distinct sound, which is rich and full, blends harmonies that only they can create.
Their legacy persists with founding member and front-man, Jerome Koko on vocals and 12-string guitar, Kimo Artis on vocals and electric bass, and Hanale Kaʻanapu on vocals and 6-string guitar. This extremely talented trio creates a magic of iconic sounds; full of syrupy, boldness of harmonies, melodic intricacies of tones, and breathtakingly, memorable songs. They have released 22 CDs and produced a DVD on their own record label. The Sons have also produced their own signature concert, "Take a Walk in the Country," in Hawaii for many years.
We are open. And your safety is our priority.

Temperature checks for all attendees are required. You MUST wear a mask to enter. You may take off your mask while seated at your table however if you get up for any reason you MUST put your mask on. This is for your safety and the safety of everyone in attendance.

Among other precautions, our staff will be temperature checked. They will wear face shields and masks. Our tables will be six feet apart. Artists will perform behind a plexiglass barrier, 10 feet away from the front row. Tables and chairs will be sanitized in between shows. We will offer contactless payment options and hand sanitizers throughout the club.

To accommodate the policies noted above and to stay within state, city, county and CDC guidelines, our capacity has been significantly reduced. Selling complete tables is the only way we can run a sustainable operation; keeping you safe and paying our bands what they deserve. Individual tickets are not available at this time. We are selling entire tables. Please refer to the floor plan above.

Mahalo for your kokua, and for supporting live music in Hawaii.
__________________________________________
Seating is First Come, First Served
$10 Food or Beverage Minimum Per Person Inside Club
Full Bar & Full Dinner Menu Available
No refunds or exchanges.
Please make sure you purchase tickets for the correct date and time. Mahalo!