Brudenell Presents…
Robert Jon & The Wreck
£17.50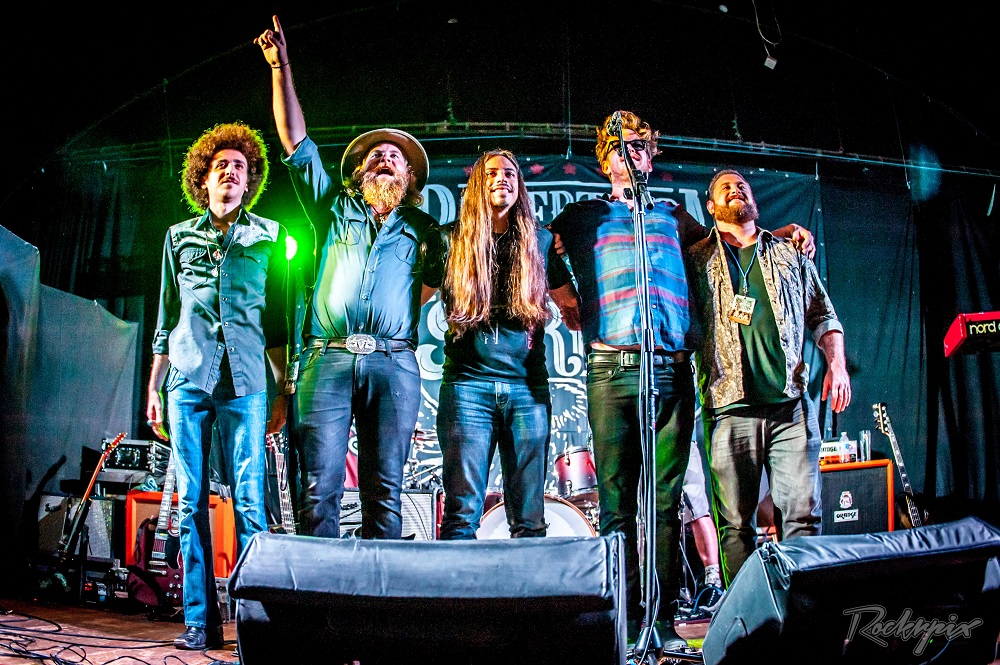 Robert Jon & The Wreck are a double shot of southern rock with a blues chaser. Roots rock jams, whiskey drenched lyrics and fervent stage shows only scratch the surface of what makes RJ&TW one of the best live bands to emerge from Southern California in years. With a growing discography and billings alongside the likes of Joe Bonamassa, Sturgill Simpson, and Peter Frampton, the quintet is poised for their greatest work yet. Based in Orange County, CA with a vibe straight out of the south, Robert Jon & The Wreck are blazing a path into 2021 with a new album and international tour.
Composed of Robert Jon Burrison (lead vocals/guitar), Andrew Espantman (drums/background vocals), Steve Maggiora (keys/background vocals), Henry James (lead guitar), and Warren Murrel (bass), Robert Jon & The Wreck are currently writing their fifth LP. The new album is untitled to date and set for release in spring of 2020, and will launch a stateside tour that spans southern California to Florida. The U.S. dates will be followed by a European leg toting stops in Valencia, Paris, and Frankfurt, with bookings still underway and locations in Japan and Australia to be announced.
Reigning from southern California, Robert Jon & The Wreck, has been taking the southern rock sound established on the east coast and bringing it to the West Coast. Since their inception in 2011, these 5 native Californians; Robert Jon Burrison (Lead Vocals/Guitar), Andrew Espantman (Drums/Background Vocals), Steve Maggiora (Keys/Background Vocals), Nick Phakpiseth (Bass) have been electrifying audiences all over the world with their soaring guitar leads, boogieing grooves, rich vocal harmonies and arguably perfect tunes.
With yearly European tours now becoming an integral part of their touring regiment through touring agent Manny Montana's Teenage Head Music (The Delta Saints, Blackfoot Gypsies, Them Dirty Roses), Robert Jon & The Wreck found their flow being on the road most of the year, returning to California and prolifically pumping out new material. In 2017 they recorded their self-titled album, "Robert Jon & The Wreck", but due to lineup changes in the band (resolving with the addition of James and Murrel), the band re-branded their "Rhythm of the Road" and "RedBull Sessions" EPs to form "Wreckage: Vol.1: B-Sides Collection", and with the new band members in tow, took to Europe once more with a breakout performance at the Moulin Blues Fest in Ospel, Netherlands. Their self-titled album released in May 2018 to high praise and the band didn't skip a beat.
The guys already have major plans for 2021, currently writing their 6th studio album (title pending). Along with plans for multiple European excursions, including festival performances at Bospop in the Netherlands, a full UK tour, and Australian and Japanese tours in the works, the band is also working tirelessly coming up with new merchandise and other goodies at their online store, and keeping their fans in-the-know and Getting Wrecked through their weekly podcast, "The Wreck Podcast" and email list giveaways.