Chris Isaacson Presents & Ronn Goswick present
A BROADWAY CHRISTMAS starring EDEN ESPINOSA (Wicked)
$25.00 - $50.00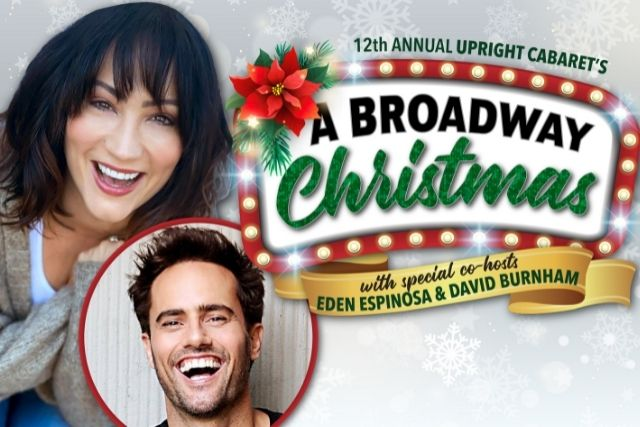 CANCELLED *** CANCELLED *** CANCELLED *** CANCELLED *** CANCELLED


Watch Stars and Snowflakes glitter together at Upright's 14th annual A BROADWAY CHRISTMAS co-hosted by Award-winning Broadway star Eden Espinosa (Wicked) and David Burnham (Wicked)! Live - Sun, Dec 19th at 7:30pm at Catalina Jazz Club.

Cozy up next to your someone special, and be warmed not by an open fire but by yuletide joy, sweet standards, and more! With brassy horns and sentimental strings, Upright creates a wonderland of the cheerful arrangements and airy melodies that make Broadway and Christmas all aglow. Under boughs of holly, bathed in a multi-media of silver and gold, our celebrity singers use their suave voices to turn the stage into a true town of tinsel – and make this highly anticipated season's event the perfect way to put you in the holiday spirit.
All-Star cast includes Matt Zarley, Chad Doreck, Kate Harmon, Nicole Santiago, Julie Garnye, Dillon Klena, Bethany Joy Lenz, Ava Delaney, Will Collyer, and Alisan Porter (Winner of NBC's The Voice).

With Ugly Christmas Sweater Contest judges - Sam Harris (Tony Award-nominee), Ken Werther (Publicist) and more!
Tickets: $25-37.50, Artist Circle Seating Available. Box Office (866) 468- 3399 or www.TicketWeb.com. Save $5 before Dec 12th with code: "EARLYBIRD" (*restrictions apply).

Catalina Bar & Grill
6725 West Sunset Blvd.
Hollywood, CA 90028

Proudly presented by Chris Isaacson Presents and Ronn Goswick.

*Tickets purchased online receive priority seating.
*Single Entree or Drink minimums apply for all tickets

***Early Bird Tickets have a minimum purchase of (2) tickets per transaction. Includes MAIN Seating only