Azmari Bet and Kazum present
Azmari Bet
RESTAURANT SEATING LINK BELOW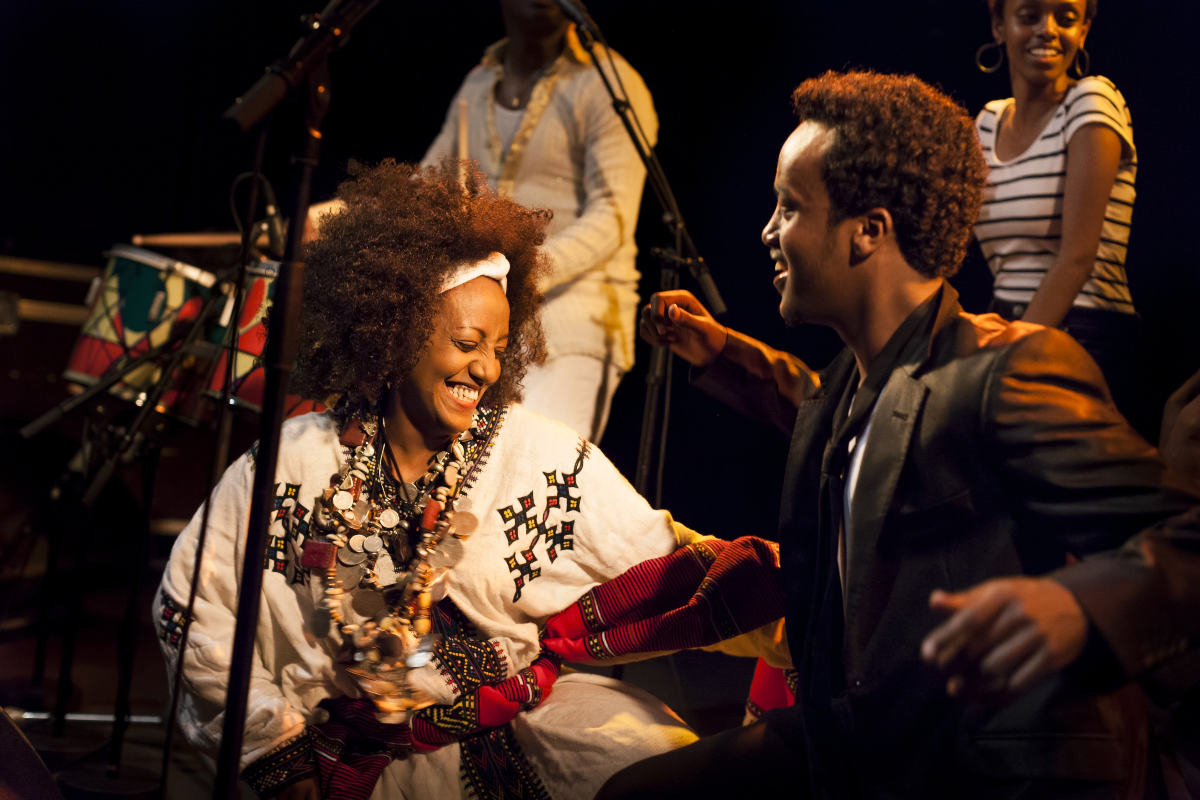 CLICK HERE for tables in our mezzanine restaurant overlooking the stage.

Azmari Bet and Kazum present

KRAR COLLECTIVE + DAHLAK BAND + BABY MASINKO & ZEWDITU YOHANNES + SHEBA SOUND

Azmari Bet club and Kazum present an evening of the best Horn of Africa roots and rhythms to celebrate Ethiopian and Eritrean Orthodox Christmas, which takes place on 7 January.

Krar Collective serve up a mind-blowing feast of Ethiopian grooves. Led by Temesgen Zeleke, a student of Ethio-jazz legend Mulatu Astatke, the band perform a contemporary take on roots music from Ethiopia. In the hand of Zeleke the krar (lyre) becomes a twanging ancient rock guitar, the hypnotic, ever-changing rhythms of the kebero drums drive the music, and powerful, intricate vocals take us on a journey through Ethiopia's many different cultures. "One of the grooviest and most hypnotic bands at Damon Albarn's Africa Express bonanza." Time Out

Dahlak Band is a 4-piece from Eritrea featuring krar, saxophone, bass and keys. Growing out of the Eritrean club scene based around Stockwell, they are in demand around Europe for parties and functions, delivering some of the best dance music from their home country. Singing in Tigrigna, the language of Eritrea, the music is close to but different from that of Ethiopia. Will this be a battle of Eritrean versus Ethiopian krar bands?

The Azmari Bet is a traditional club that you can find hidden away in the back streets of Addis Ababa, where musicians entertain and customers come to drink, eat, dance, chill. At the heart of the Azmari Bet is the Azmari minstrel. Baby Masinko and Zewditu Yohannes are two of London's very own Azmaris. Baby plays one-stringed fiddle and Zewditu has featured on several tracks in the legendary Ethiopiques series.

DJ Jonathan Banes (Sheba Sound) lived in Ethiopia for many years where he captured the mesmerising sounds of rural musicians using pop-up recording studios. Mixing them with dub, reggae and electronics, he brings these remixed roots to the dancefloor.

Line up
Krar Collective
Dahlak Band
Zewditu Yohannes & Baby Masinko
Jonathan Banes (Sheba Sound)

CLICK HERE for availability in our restaurant.