VICTORIA BC SKA & REGGAE SOCIETY
Victoria's 24th Annual Ska & Reggae Festival - Maxi Priest, Sister Carol, Junior Toots, Pan Wizards Steel Orchestra, DJ Arems & DJ Abel
$42.50 - $59.50 advance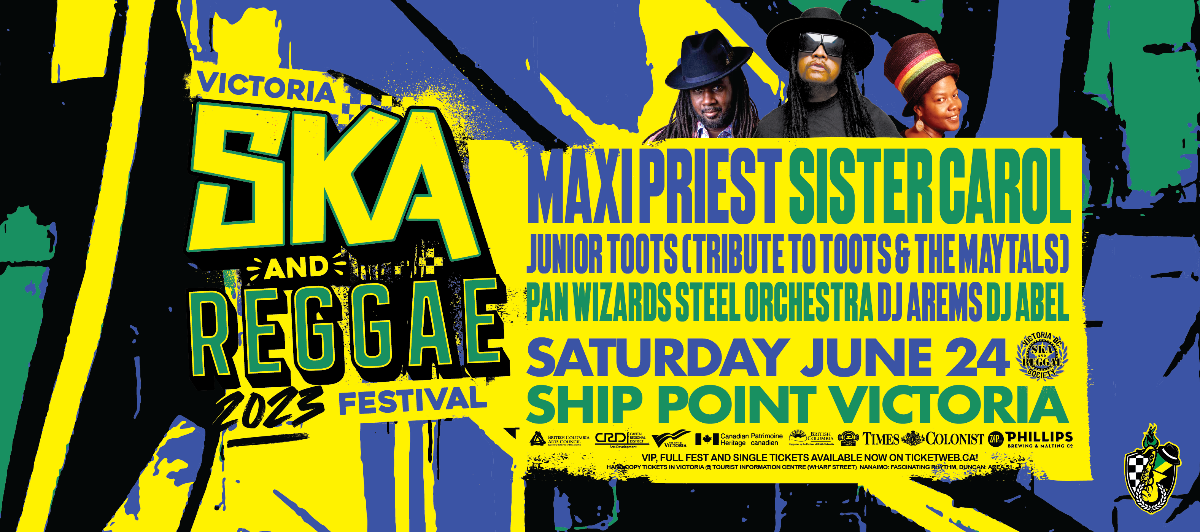 Reggae historian Roger Steffens said "The beat of reggae is the beat of the healthy human heart at rest." It's the reason that so many of turn to reggae music in times of need and struggle, as well as times of joy and celebration. This year we celebrate the endearing power and legacy of reggae music as welcome some truly incredible representatives from the world of reggae to our stage for the first time.

We are proud to host and welcome international reggae superstar, and one of the most recognizable voices in the genre, MAXI PRIEST for his Victoria Ska & Reggae Festival debut. Since the release of his debut album in 1985, Maxi Priest has been in demand with reggae lovers around the world. Perhaps no one has done more to spread the sultry, breezy vibes of lovers' rock than Maxi Priest. His otherworldly voice has made him a consistently in-demand collaborator, working with musical luminaries like Beres Hammond, Shaggy, Roberta Flack and Bounty Killer. Earlier this year Priest popped up with Easy Star All-Stars to bring his untouchable style to a fantastic cover of the David Bowie classic "Starman." Don't miss the Victoria debut, and the only western Canadian play this summer, of a true giant of reggae music.

Also on the bill for our Saturday reggae celebration is the powerful, incomparable SISTER CAROL. Undoubtedly one of the most successful female deejays of the dancehall era, Sister Carol has bee described by some as reggae's answer to Queen Latifah – a strong, positive feminist, inspired by her faith and never resorting to sexual posturing to win her audiences. Her songs are streetwise, conscious and encompass all of the best parts of reggae and dancehall culture. Equally adept at singing and toasting, Sister Carol's immense talent has kept her as an acclaimed member of the scene for nearly four decades. Joining these reggae titans is JUNIOR TOOTS, the scion of reggae royalty, who will be taking Victoria Ska & Reggae Fest stage to pay tribute to the music and legacy of his father's band, Toots & The Maytals. With a gruff but sweet voice reminiscent of his later father, Junior Toots has been doing the big work, keeping the music and spirit of Toots & The Maytals bright and strong. When you hear Junior Toots sing it's immediately clear that more than a thing or two has been passed down through the generations. Kicking things off will be PAN WIZARDS STEEL ORCHESTRA, who we guarantee is unlike anything our audiences have ever seen. With more than 30 people, their sound is big and bright, highlighting that most-beloved island instrument, the steel drum. Experience familiar songs in a completely new way. If you ever needed a reason to get to the Inner Harbour early during festival, this is the one.