Opus One Presents
Joshua Hedley / Lauren Morrow
$18.00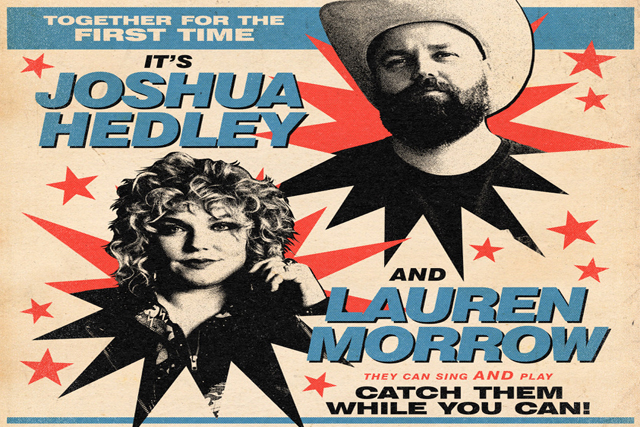 21 and Over * Limited seating and standing room only. Seating available on a first-come first-serve basis only

Joshua Hedley Bio:

Joshua Hedley is "a singing professor of country & western," he declares on his raucous and witty new album, Neon Blue. It might sound like a punchline, but it's not. An ace fiddle player, a sharp guitarist, and a singer with a granite twang, he's devoted his entire life to the study of this genre. Ask him about it and he'll explain: "When all my friends went off to college, I went to Nashville. I was 19 years old playing honkytonks and getting an education." His 2018 debut, Mr. Jukebox, showcased his deep knowledge of country's history, in particular the beery ballads of the 1950s and '60s. His mentors were George Jones, Ray Price, and Glen Campbell, but his most remarkable accomplishment was putting his own spin on their style.
Hedley has been a presence in Nashville for nearly twenty years, although you have to know where to find him. You have to brave the tourists on Broadway, bypass the three-story bars blasting Journey, and make your way to Robert's Western World, a time-capsule honkytonk from a different era, an oasis in a town where twang is constantly being run down by pedal pubs.That place informed the sound and style of Mr. Jukebox, which introduced him to a wider audience beyond the city limits and established him as one of Nashville's most knowledgeable and exciting artists.
After making Mr. Jukebox with a loose group of hell-raising friends, Hedley decided to record his follow-up with professional session players—a Nashville tradition. Producers Skylar Wilson (Justin Townes Earle, Lindi Ortega) and Jordan Lehning (Rodney Crowell) corralled an all-star crew featuring some of the city's best players, who made Hedley step up his game. During the process of co-writing and recording Neon Blue, the singing professor became the student, learning lessons he'll apply to everything he does next.