Serious Presents
Chief Xian aTunde Adjuah (formerly Christian Scott)
GBP25.00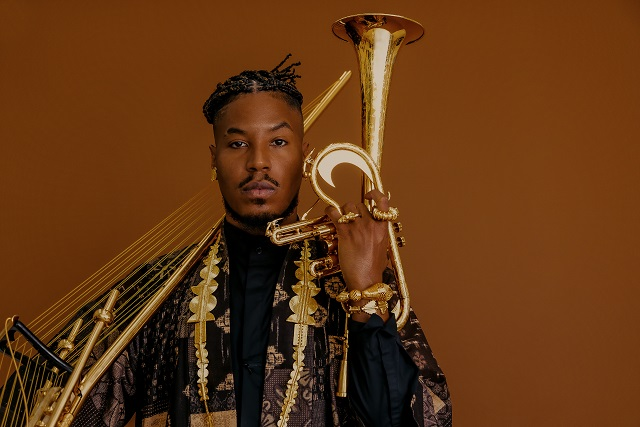 In the run up to the 30th edition of EFG London Jazz Festival in November, Serious, producers of the Festival celebrates the birthday with global jazz stars year-round
.
Chief Xian aTunde Adjuah
(formerly
Christian Scott
) - the two-time Edison Award-Winning, six-time Grammy-Nominated sonic architect, trumpeter, multi-instrumentalist, composer, producer, designer of innovative technologies and musical instruments (Adjuah Trumpet, Siren, Sirenette, and Chief Adjuah Bow) - returns to London following sold-out EFG London Jazz Festival shows. This marks our first KOKO show since its glorious re-opening, with more to follow in this year's
30th Birthday Festival
.
Crowned Chieftain of the Xodokan Nation of the maroon tribes of New Orleans, Adjuah has released thirteen critically acclaimed studio recordings, four live albums, and one greatest hits collection. He returns with a new vision of blues and rock 'n' roll centred around vocal storytelling, song, and Xian's innovative new instrument "Chief Adjuah's Bow" (an electric double-sided N'goni/Kora/Harp created by Adjuah).
New single 'Bark out Thunder Roar out Lightning' bridges past and future by marrying the folkloric styles, ceremonial and ritual practice of the Maroon and Black chiefdoms and culture of New Orleans with his own innovation; Stretch Music. The result, a spellbinding exhibition of Afro-New Orleanian and West African narratives where music, dance and cultures collide in a riveting new approach that fills in the often veiled histories and roots of blues and rock 'n' roll.
'Christian Scott aTunde Adjuah looks back from jazz's future'
(Fader)
'Ushers in a new era in jazz'
(NPR)