Schur, Christina Li, VINNI, Bloom, Nathan Farrell
$20.00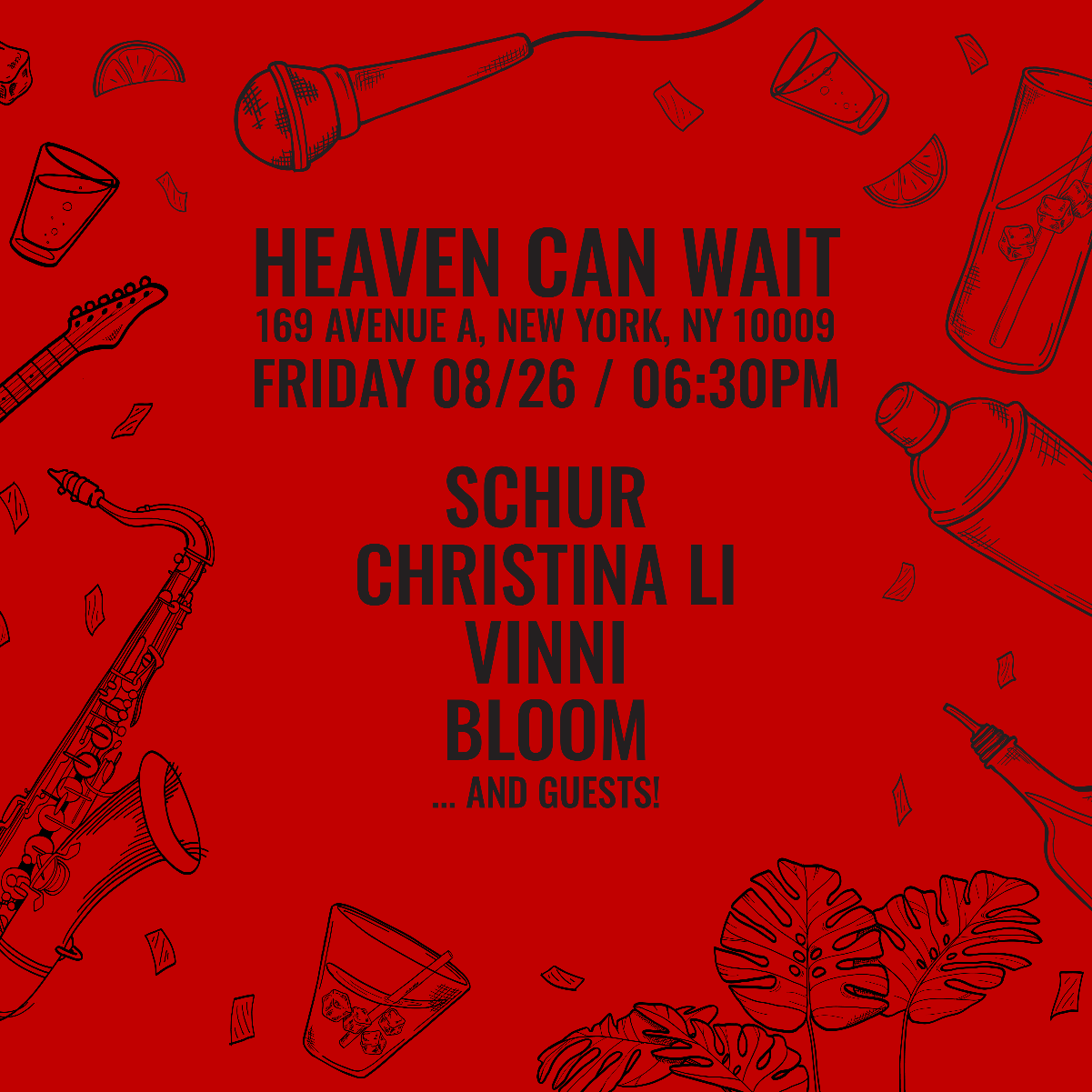 Schur
Schur grew up listening to nothing but Led Zeppelin, The Who, and The Rolling Stones. In high school, he discovered Kanye and thought it would be cool to combine 808s with rock and roll. It is slowly working out.

Christina Li
Christina Li is singer-songwriter-producer, originally from Hong Kong and now based in New York City. Christina finds her sound in the energy of retro-pop bands, the intimacy of indie-pop lyricism, and the harmonic complexities of k-pop and r&b; she cites influences from Lake Street Dive, Lizzy McAlpine, Eloise, and Red Velvet. Christina began her career with self-written, self-produced debut "Strings EP", a seven song storybook that marked years of self-exploration. Christina's second release "Just As You Are", with EDM producer Elitrax, amassed her thousands of views, followers, and streams. "Residue" is Christina's most recent single, co-written and produced with Thai artist Teddy Sun, and the pop anthem speaks to Christina's knack for writing unshakeable melodies. Writing with an Asian-American and queer lens, Christina instills a duality into her music, seeking to uplift spirits, while giving voice to an often silent community and shed light on unspoken truths.

VINNI
LA born, NYC based VINNI is a producer, composer, singer, pianist, and jazz saxophonist. He began experimenting as a music major studying at Columbia University, producing alternative lo fi beats underneath reflective and contemplative lyrics on the human experience.
VINNI just released his latest single, "a long and lonely minute", written and produced by himself and producer Alex Maddon in their respective dorm rooms at Columbia University. Inspired by artists such as keshi, HONNE, Lauv, VINNI attempts to grapple with the tribulations of young love, loss, and identity. His music explores the raw emotions stemming from the pain and grief behind having to accept and let go of a loved one. While everyone has their own interpretation of love and loss, VINNI hopes to convey a small facet of his experience that any listener can relate to.

Nathan Farrell
Nathan Farrell is a 23 year old vocalist and musician from the NYC Metropolitan Area. He is a performer above all else, creating irreplicable experiences by drawing in audiences with his captivating energy and storytelling, sultry tone, impressive vocal agility, and a commitment to musicianship that is felt across the stage. Since moving to NYC, Nathan has become a regular solo and sideman performer: he's recently performed at jazz clubs in Harlem such as Room 623 and The Cloak Room, and other venues including Le Poisson Rouge, Pete's Candy Store, Rockwood Music Hall, Chelsea Music Hall, and Madison Square Garden as the National Anthem singer. He is inspired by R&B, pop, jazz and alternative genres. In addition to his vocals, a number of fiery, passionate saxophone solos are sure to make an appearance through his sets. His performances and social media recordings have caught the attention of renowned artists such as Robin Pecknold of Fleet Foxes, "Yebba" Smith, and Wynton Marsalis.