Summer Fling, Lianne Rose, Chris Nitti
$20.00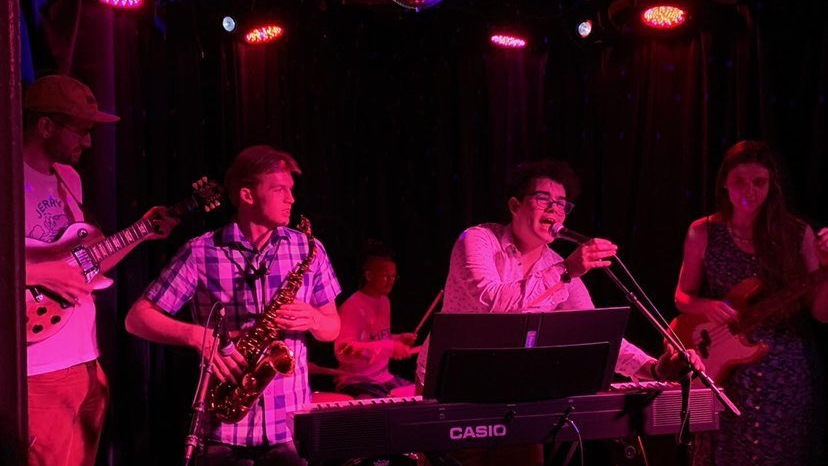 Summer Fling
Summer Fling is a conglomerate of young musicians based in New York, who play a high-energy mix of funk, rock, and pop. Originally brewed in Larchmont, NY, this band of fools is made up of vocalist Eddie Kam, electric guitarist Evan Macaluso, bass guitarist Dani Johnson, trumpeter James "Jimbo" Worsey, along with an eclectic array of guest instrumentalists. Chiefly comprised of jazz students at various NYC conservatories, this formidable gang loves performing covers and impersonating Bowie and Springsteen as much as they love releasing and sharing original tunes from Communal Bathhouse Records.

Lianne Rose
Typically a four person band, Lianne Rose grabs influence from indie, folk, and rock to write groovy material about her life. With her catchy songs and cool demeanor, Lianne Rose is known to captivate any crowd whether they are in her home of NYC or Buenos Aires, Argentina where she gigged this past spring.

Chris Nitti
Based in New Jersey, Chris Nitti is a recording project that started in solitude in 2016. After learning guitar and a few other instruments, while getting into DIY artist such as Alex G and Mac DeMarco, Chris started writing his own songs out of curiosity and personal necessity. Since then, he's released an EP, 3 albums and a couple singles. While he started out doing everything himself, he's expanded to a more collaborative effort over the years, from giving mixing and mastering to others, to other instruments as well on his upcoming unreleased material. While his influences are ever-changing, Chris can always be expected to provide vulnerable and introspective lyrics over an indie rock foundation.