Pigfoot Play Ellington
GBP8.00 - GBP15.00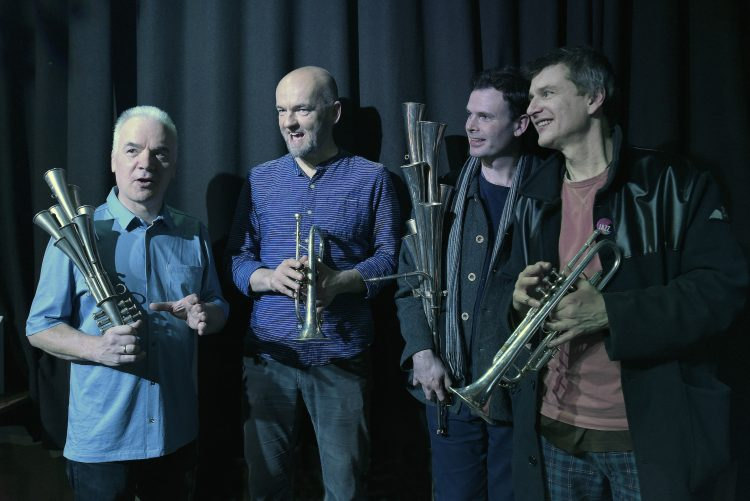 Doors 7.45pm, music 8.30pm
Line-up:
Chris Batchelor - Trumpet
James Allsopp - Baritone Saxophone
Liam Noble - Piano
Paul Clarvis - Drums

About
"Pigfoot will remind you of music you loved, and make you love it all over again. It's the sort of artistic mission that could give jazz a good name." Jon Turney londonjazznews.com
Pigfoot was formed by Chris Batchelor in 2014 to play classic 1920's New Orleans material with an open and original improvised approach. Their inquisitive exploration of classic repertoire then developed further afield, through a series of gigs at the Vortex entitled Pigfoot Play… Here they extended in all directions, with sets dedicated to Opera, Motown, Elvis, Bacharach and the hits of 1972, all spontaneously re-invented through the band's wild musicality and wry humour.
For their September appearance at the club they will present a brand new programme: Pigfoot Play Ellington, an imaginative reworking of some of Duke Ellington's iconic compositions, from the early Cotton Club blues material to Swing hits and through to the exotica that was inspired by Ellington's extensive travels.
The members of Pigfoot are all devotees of the Ellington sound - the muted rasp of trumpeter Cootie Williams, the poised grace of Harry Carney's baritone, the dense crunch of Duke's piano voicings and the buoyant bounce of drummer Sonny Greer are all reflected in the engaging and individual approaches of Batchelor, Allsopp, Noble and Clarvis. An entertainingly riotous, swinging, delicate, gnarly account of Ellington's legacy is promised.
Photo credit: Brian Homer