DJ Nights: Saxon Sound
GBP0.00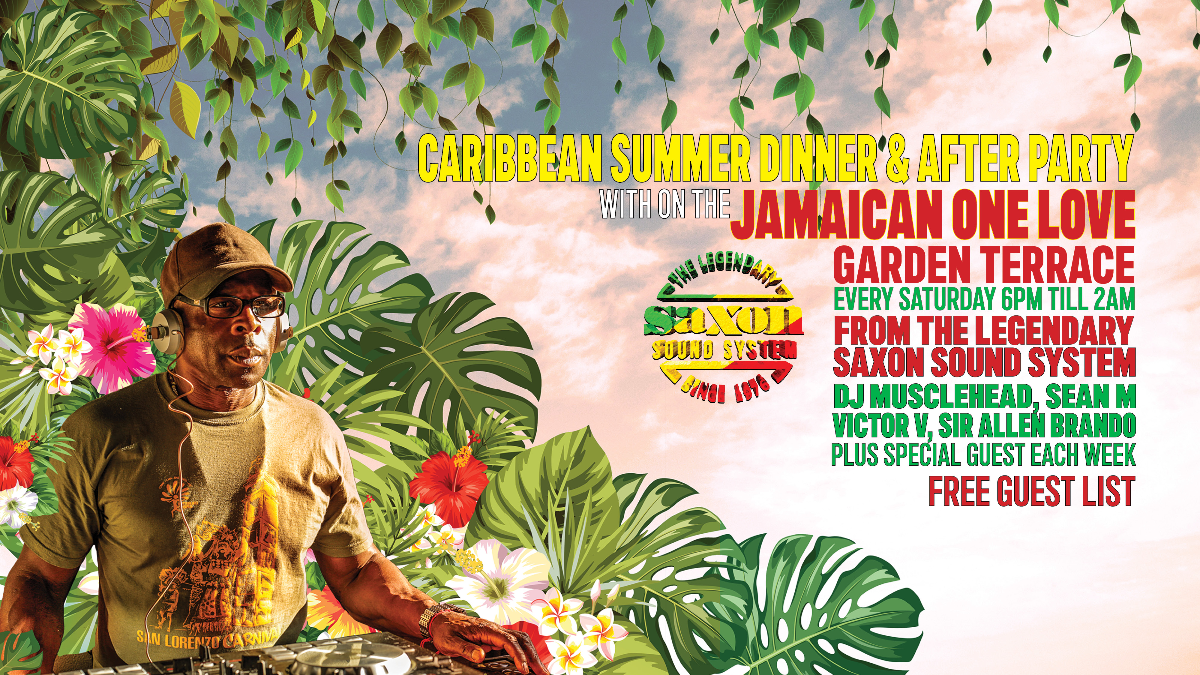 Table reservations from 5pm | DJs: 19:00 - 01.00
Boisdale of Canary Wharf in association with Music & Arts Events proudly presents the Caribbean One Love Dinner Party.
Join us every Saturday night for dinner or just a cocktail or two from 5pm with dancing from 7pm. Hosted by DJs from the legendary Saxon Sound System, a who's who of cool rulers who spin a potent Gumbo of Reggae, R&B, Afrobeat and Garage that could get any dancefloor shaking like a leaf on a Blue Mahoe tree.
In a career that stretches back to the late 70s, Saxon Sound System have built a peerless reputation as the most important DJs in reggae, launching the careers of countless stars and influencing everyone from Soul II Soul through to Massive Attack. Today they are as in demand as ever both at home and abroad - from festivals to their annual headlining slot at the Notting Hill Carnival.

*Please note your dining time is 7.00pm (Excluding lounge tickets) - if you wish to change this to an earlier or later dining time please contact our reception team after you have purchased your tickets on 0207 715 5818 or email reception@boisdale-cw.co.uk attaching your ticket.
ABOUT THE VENUE
Jools Holland is Boisdale's Patron of Music presenting the very best in jazz, blues, reggae and soul and occasionally rock'n'roll. Described as "London's No 1 jazz venue" by Tatler Magazine, Boisdale of Canary Wharf is a two-floor venue overlooking the fountains of Cabot Square, which comprises an award-winning restaurant, four private dining rooms, The Hine Bar & Garden Terrace, the world's most extensive whisky bar (over 1000 malt whiskies!).
The food offering ranges from an excellent value bar menu with a wonderful selection of burgers starting at £12.95, Scottish Pizza from £8.95 and an A La carte menu celebrating great British ingredients with flair and imagination. The dry aged grass fed Aberdeenshire beef steaks are simply amazing! You can also enjoy fabulous cocktails, a good selection of real ales and draft lagers as well as an outstanding wine list with over 200 bins.
"London's number one jazz venue" Tatler
"Best Whisky Bar in the World" Whisky Magazine
"A carnivore's dream" Evening Standard
"Aged steaks are deemed incredible" Square Meal
"The world's most individualistic style bar & restaurant" Hot Tickets
FOLLOW US:
Facebook: https://www.facebook.com/BoisdaleRestaurants
Instagram: https://www.instagram.com/boisdale_restaurants
Website: http://www.boisdale.co.uk