Kid Creole & The Coconuts
GBP49.00 - GBP249.00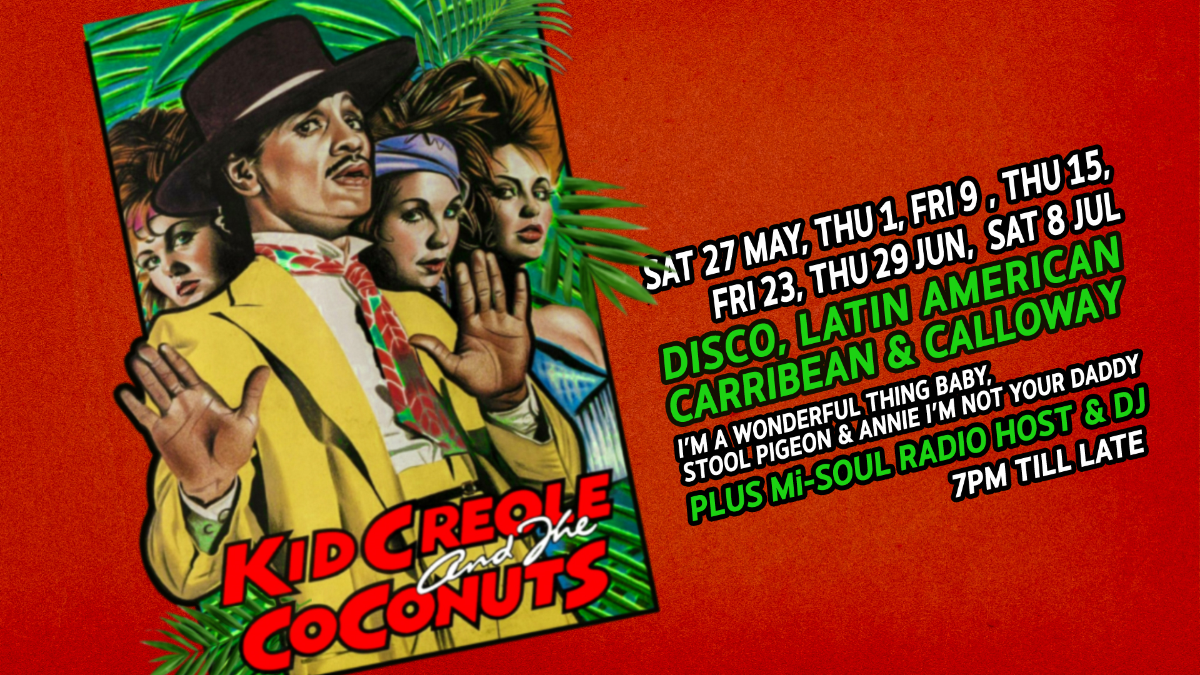 "I'm a Wonderful Thing, Baby", "Stool Pigeon", "Annie, I'm Not Your Daddy" and many more

Kid Creole, the Sultan of Suave, the High Priest of Hip and the Prince of Pizazz, recently announced his exclusive intimate UK residency at Boisdale of Canary Wharf
Led with effervescent enthusiasm by Bronx-born August Darnell, who originally modelled his larger-than-life zoot-suit style on the legendary Cab Calloway, Kid Creole & the Coconuts' melting pot of potent pop-funk laced with a heavy twist of Latin and Caribbean flavours saw them sailing to the top of the charts all over the world.
We are delighted to welcome them to Boisdale Canary Wharf for what is sure to be another barnstorming show as they unleash a seemingly endless jukebox of ageless songs that includes Stool Pigeon, Annie, I'm Not Your Daddy and I'm A Wonderful Thing, Baby.
Kid Creole and the Coconuts will be performing an intimate show at Boisdale of Canary Wharf. Don't miss out and get your tickets now!
"a proper pop star, someone beamed in from somewhere rather more glittery than here". The Quietus
"Mr August Darnell is a person we scarcely seem to deserve, an unusually conscientious and industrious writer, composer, arranger, producer, player, singer, stage manager, character, bon vivant". NME

Bar and heated Terrace available on the first floor for pre/post-show drinks!

BOISDALE of Canary wharf
https://youtu.be/KDdutzlPljU
Jools Holland is Boisdale's Patron of Music presenting the very best in jazz, blues, reggae and soul and occasionally rock'n'roll. Boisdale of Canary Wharf is a two-floor venue overlooking the fountains of Cabot Square, which comprises an award-winning restaurant, four private dining rooms, The Oyster Bar & Grill, The Cigar Terrace, the world's most extensive whisky bar, and a stunning walk-in cigar humidor.
"London's number one jazz venue"
Tatler
"Best Whisky Bar in the World"
Whisky Magazine
"A carnivore's dream"
Evening Standard
"Aged steaks are deemed incredible"
Square Meal
"The world's most individualistic style bar & restaurant"
Hot Tickets
MENUS
FOLLOW US:
Facebook:
https://www.facebook.com/BoisdaleRestaurants
Instagram:
https://www.instagram.com/boisdale_restaurants
Website:
http://www.boisdale.co.uk