Livefields Festival
GBP25.00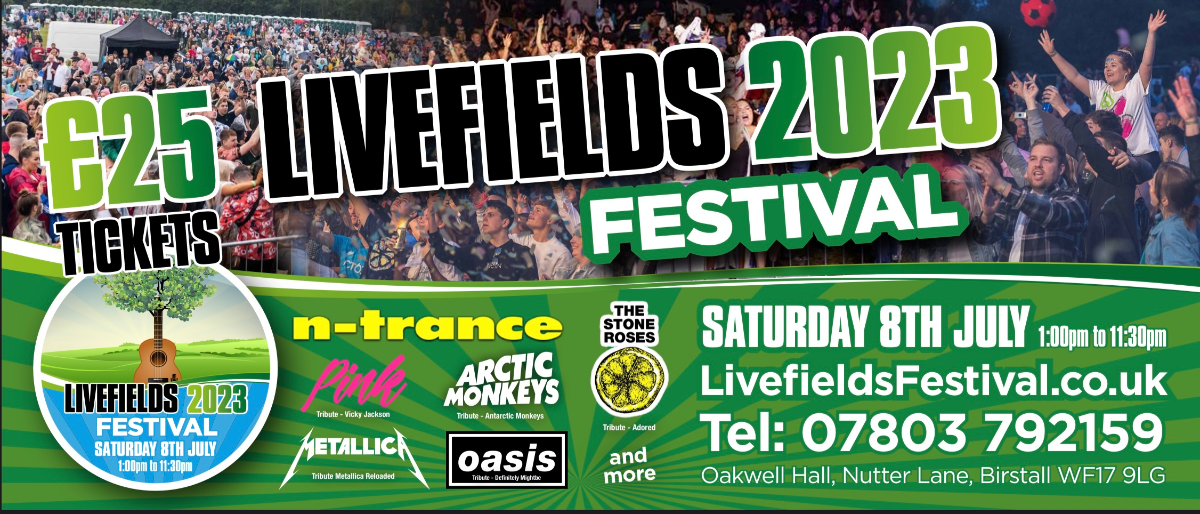 Saturday 8th July 2023

EARLY BIRD TICKETS AVAILABLE NOW £12.50

STANDARD TICKETS £25

Oakwell Hall, Nutter Lane, Birstall, West Yorkshire WF17 9LG

Bands Subject to change

N-Trance

Vicky Jackson as Pink

Metallica Reloaded

Antarctic Monkeys

Definitely Mightbe

Adored- Stone Roses

Festival Times

1:00 pm – Gates Open
11:00 pm – Gates Close

Tickets and Wristbands
Tickets £25
Wristbands will be issued on entry

Location Information
Oakwell Hall is just a few minutes drive off the M62, from either Junction 26 from the West or 27 from the East.
There is parking available next to the event for £5 per car.
Gomersal Park Hotel will provide a discounted room rate for festival attendees. Just call 01274 869386 and quote 'Livefields' when booking.

Bars
All bars are fully Licensed. Soft drinks and water are also available.

Food Available
Hotdogs, Pizza, BBQ, Coffee waffles & donuts, Kebabs ,Crepes, Burgers with a vegetarian option.

Age Restrictions
Attendees must be aged 14 or over. Under 18s must be accompanied by an adult.

PERMITTED AT THE FESTIVAL
Chairs, Blankets & cigarettes for personal use only.

NOT PERMITTED
Your own alcohol, water, aerosols, flares, air horns, fireworks, gas canisters, audio recorders, animals, bags larger than A4 size, cans, drones, glass, drugs, picnics and food.
ANY OF THE ABOVE WILL BE CONFISCATED ON ENTRY

Accessibility
To arrange any special requirements, please contact us directly by calling 07803 792159 or by email liveroomcleckgmail.com

Personal Safety
A First Aid Station will be available onsite, as well as Fire Points, emergency information and onsite toilets.