Sunday Jazz & Soul Lunch: Polly Gibbons with Boisdale All Stars band
GBP49.00 - GBP79.00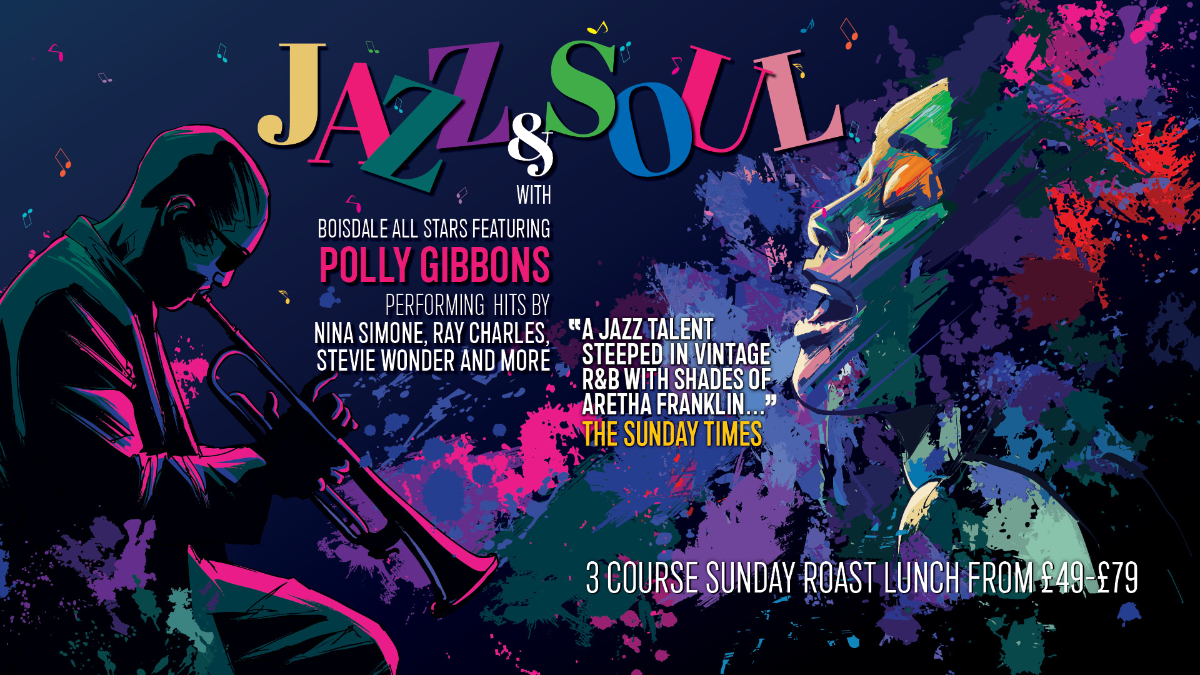 As an icon­ic Live Music British Restau­rant, we make a Sun­day Roast a much more excit­ing venture!
End your weekend with friends and fam­i­ly with a scrump­tious 3-course Sunday lunch and a fantastic atmosphere, all accom­pa­nied with Live Music.
Cham­pi­oning the Great British roast, Bois­dale selects some of the very finest Scottish beef for the stun­ning cen­tre­piece of the new menu. An 18-hour slow roast dry-aged rib of beef, York­shire pud­ding, goose fat roast pota­toes, her­itage veg­eta­bles, red wine gravy is undoubt­ed­ly some of the high­est qual­i­ty meat avail­able in the capital.
For those look­ing for an alter­na­tive to the full Sun­day roast offer­ing, lunch dish­es includ­ing the leg­endary Bois­dale Roast Dum­friesshire black­face hag­gis bashed neeps & tat­ties will be on offeror or fish of the day more casu­al lunchtime dining.
Polly Gibbons
Join us for an afternoon of Jazz, Motown, Soul and Funk with Boisdale All Stars featuring Polly Gibbons. Boisdale's All Stars is a band whose members have toured and performed all over the world, both as sidemen and bandleaders. Joining Boisdale's All Stars is the powerful vocalist Polly Gibbons, whose rich and soulful vocals have found her supporting Gladys Knight and George Benson on their UK tours. Expect classic tunes by Stevie Wonder, Aretha Franklin and The Jackson 5

BOISDALE of Canary wharf
https://youtu.be/KDdutzlPljU
Jools Holland is Boisdale's Patron of Music presenting the very best in jazz, blues, reggae and soul and occasionally rock'n'roll. Boisdale of Canary Wharf is a two-floor venue overlooking the fountains of Cabot Square, which comprises an award-winning restaurant, four private dining rooms, The Oyster Bar & Grill, The Cigar Terrace, the world's most extensive whisky bar, and a stunning walk-in cigar humidor.

"London's number one jazz venue" Tatler
"Best Whisky Bar in the World" Whisky Magazine
"A carnivore's dream" Evening Standard
"Aged steaks are deemed incredible" Square Meal
"The world's most individualistic style bar & restaurant" Hot Tickets

MENUS

FOLLOW US:
Facebook: https://www.facebook.com/BoisdaleRestaurants
Instagram: https://www.instagram.com/boisdale_restaurants
Website: http://www.boisdale.co.uk