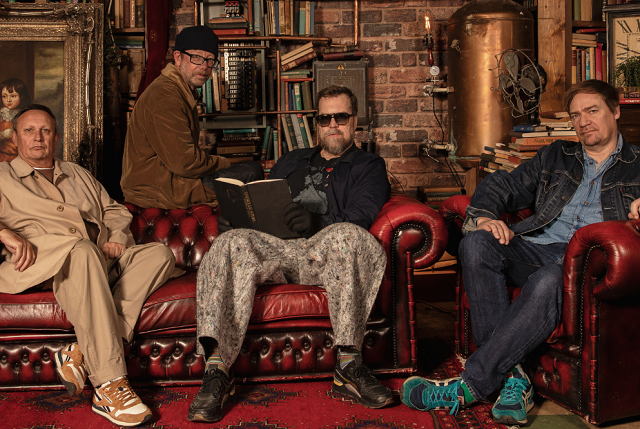 If you have any access requests please call/book directly o 01392 667080 opt 1
In the five years since Creep Show's acclaimed Mr Dynamite album was released it's fair to say that we've all been through a fair bit. Sat here, in 2023, things don't seem to be getting any better. There's the cost of living crisis and political meltdowns; we're in deep water with global warming and to top it all there's a war on our doorstep.
Back in 2018 everything seemed less complicated. Sure, there was stuff to get riled about, but we knew nothing about what was to come. Mr Dynamite was a fairground ride into the dark corners of a world that was on the brink of being blitzed in a blender. It was a record teetering on the edge. Five years down the line you'd expect the follow-up, Yawning Abyss, would double-down and bring the white-knuckled, teeth-gritted fury of the last five years to the boil. And yet…
A quick recap? No problem. Wrangler + John Grant = Creep Show. And Creep Show? "A band of musical misfits who have found a voice or two", says Wrangler's Ben 'Benge' Edwards, whose Bond villain studio on the edge of a moorland is Creep Show Grand Central as well as home to an analogue synth arsenal that could sink ships.
Wrangler have known each other for a while. Tunng's electronics wizard Phil Winter and Cabaret Voltaire's trailblazing, pioneering frontman Stephen Mallinder go way back. They met through a mutual friend, Rob Collins, who worked at Some Bizzare when The Cabs were on the roster. 'I knew Rob from school', says Phil, 'And I obviously liked Cabaret Voltaire before I met Mal so it just sort of lead on from that.'