Only the Beginning Tour with Big Daddy Weave and Special Guests Hannah Kerr and The Young Escape - Camp Hill, PA
$19.95 - $75.00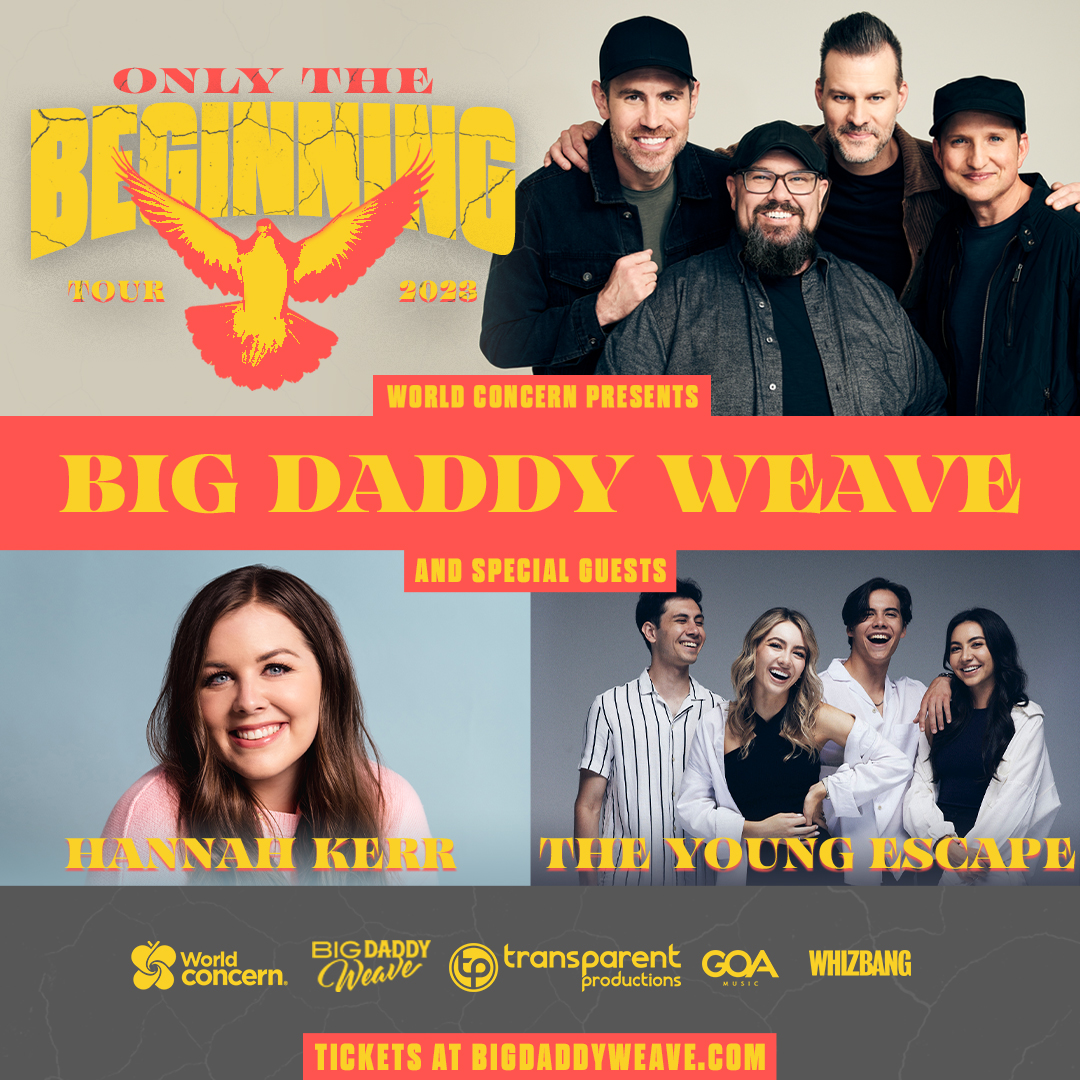 This Spring - don't miss out on the Only the Beginning Tour with Big Daddy Weave! Live in your city with their friend Hannah Kerr, we can't wait to sing alongside you! The Only the Beginning Tour will feature many of your favorite Big Daddy Weave songs, including The Lion and The Lamb, My Story, I Know, and new songs like God Is In This Story. We can't wait to see you, this Summer!

SCHEDULE (subject to change):
5:00pm - Premium doors open
5:15pm - Premium Conversation begins
5:45pm - Early Entry doors open
6:00pm - General doors open
7:00pm - Concert begins

Important Information: We will be following the local COVID guidelines at the time of the event. Attendees over the age of 2 will be required to have their own ticket. If attendee arrives after specified ticket type door time, participation in ticket type benefits can not be guaranteed. It is not guaranteed that attendee's entire party will be seated together. Ticket prices are subject to change based on demand and/or when purchased at the door. All purchases are non-refundable.By purchasing a ticket, you are agreeing to follow any COVID-19 safety guidelines required at the time of the event, including, but not limited to, masks, negative covid test, social distancing, and temperature checks. Please consider that there is an inherent risk of exposure to COVID-19 or other infectious diseases in any place where people are present. We cannot ensure or be held liable that the premises are free from contagions. By voluntarily entering and being present at this event, you (and each person in your party) acknowledge and agree to accept complete and sole responsibility for the inherent risk of possible exposure.
For the protection of our ticket buyers and event participants, third party selling of tickets will not be permitted for any Transparent Productions event pages. There has been an increase in fraudulent and unlawful scams around concert ticket sales online. To ensure everyone has an official ticket to the event through proper channels, we recommend you purchase your tickets through the official ticketing outlet for your event. Any purchases through 3rd parties or 3rd party ticketing sites are not guaranteed by Transparent Productions and limits your ability to receive up to date information for the event and any necessary assistance.