FITZGERALDS SIDEBAR Presents:
Friday Night in SIDEBAR w/ THE 40 ACRE MULE
FREE / RSVP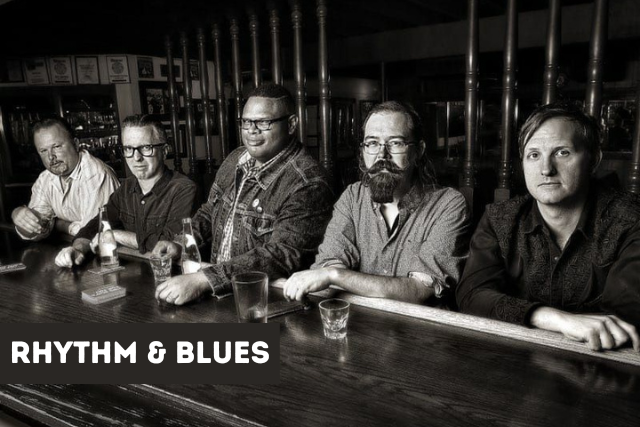 FITZGERALDS SIDEBAR PRESENTS:
Friday Night in SIDEBAR w/ THE 40 ACRE MULE seen HERE
FREE SHOW! Click "Book Now" to RSVP for guaranteed entry.
"It used to be called boogie-woogie. It used to be called rhythm & blues. Now, they call it rock & roll" Chuck Berry's words are at the very heart of Roots Rock & Roll 5-piece, THE 40 ACRE MULE! The self-described "Rhythm & Blues Outfit" are a powerhouse of vintage revival with a reputation for seamlessly blurring the lines between country, soul and rock audiences with songwriting that borders between blues drenched heartbreak and an old school riot in the streets!Influenced by the pillars of Rhythm & Blues like Chuck Berry, Little Richard, Bo Diddley and Ray Charles and inspired by recent artists such as J.D. McPherson, Nathaniel Rateliff and Gary Clark Jr., THE 40 ACRE MULE–J. Isaiah Evans: Guitar & Vocals, Robert Anderson: Drums, Tim Cooper: Bass, Chris Evetts: Baritone Sax & Percussion, and John Pedigo: Guitar & Vocals -quickly built their own unique sound by blending vintage Rock & Roll, Rhythm & Blues, Soul and just a touch of Country. It was a sound that soon caught on with The James Hunter Six,The Reverend Horton Heat, Eleven Hundred Springs, Alejandro Escovedo, Rosie Flores and more.Since forming in Dallas, Texas in 2015, THE 40 ACRE MULEhas built a loyal following the old-fashioned way...they earned it! Playing countless bars and packed clubs, they watched crowds grow mainly by word of mouth. Playing to diverse crowds has made their fanbase explode. "Wewentfrom 10 or 15 friends in a dive bar on a Tuesday to playing full-on festivals without even having an album out yet. That says something.I think we're making music that people from all walks of life...country fans, soul fans, rockabilly fans...find comfortable and familiar. It's because all those genres can trace their roots to Rhythm & Blues, the very backbone of Rock & Roll ", saysfounderJ. Isaiah EvansAfter years of putting in the workand following a critically acclaimed debut album, GOODNIGHT & GOOD LUCK(State Fair Records, 2019),THE 40 ACRE MULEhave appeared as Official Showcasing Artist at SXSW as well as AmericanFest in Nashville. Having toured with Charlie Crockett, Old 97s and The Delta Bombers, THE ACRE MULEcontinuesto hit the road, deliver their brand of Third Coast Rock & Rollcoast to coast!
Grab dinner before the show at BABYGOLD BARBECUE
***PARKING***
There is rather limited street parking in the area, we recommend arriving by rideshare, bicycle, or rickshaw.
***AGE RESTRICTIONS***
21+, Minors admitted with guardian!