Rifflandia Entertainment presents
The Monster
$35 (plus fees)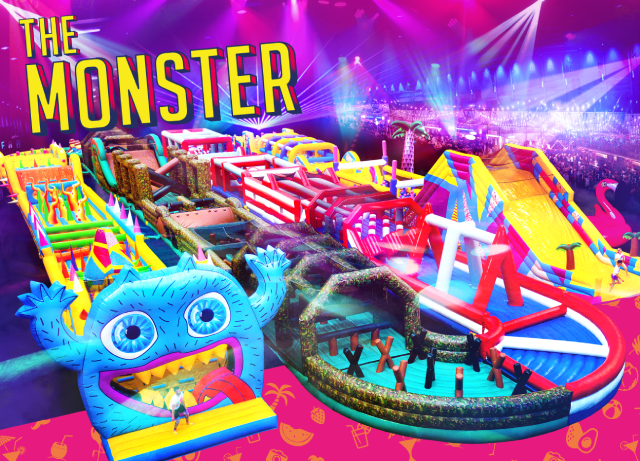 Important Ticketing Information
Anyone 17 years of age and under will require a parent or guardian to sign a waiver on their behalf before they can tackle The Monster.
To ensure everyone's safety, all 7-to-15-year old's (minimum height of 1 metre) are required to be accompanied by a parent or guardian whilst on the course.
During our Family Friendly hours, youth and accompanying adults can run the course multiple times, subject to course capacity following their time slots.
Site Hours of Operation
The Monster sessions are ticketed and will run through the day in 30-minute blocks during the site hours of operation, with separate time slots for youth and family sessions.
You should arrive at least 30 minutes before your scheduled Monster session (ex. if your session is at 12:30PM, please arrive no later than 12:00PM). This will give you enough time to exchange your ticket for your wristband and sign the liability waiver, drop your stuff in at the free coat check area, and get ready to experience The Monster!
The earlier you arrive the more prepared you will be for your experience! Feel free to arrive as early as you want to enjoy the party!

The site operating hours at Royal Athletic Park (1014 Caledonia St) are:

Thursday, June 8th – 11:30AM – 10:00PM

Friday, June 9th - 11:30AM – 10:00PM

Saturday, June 10th - 10:00AM – 10:00PM

Sunday, June 11th - 10:00AM – 10:00PM
Social Media

Facebook: https://www.facebook.com/themonsteryyj
Instagram: https://www.instagram.com/monsteryyj/
Website: https://www.themonster-canada.com/
Volunteer
Want to be involved at The Monster? We are looking to fill a variety of Monster Marshal positions to help us run the world's largest inflatable obstacle course. Please either email us at themonsteryyj@rifflandia.com or go to https://share.vomevolunteer.com/nSERpa5OZyb too be part of the best party in town!