Joseph Henry Agency
Herrick with Joel Shewmake
$20.00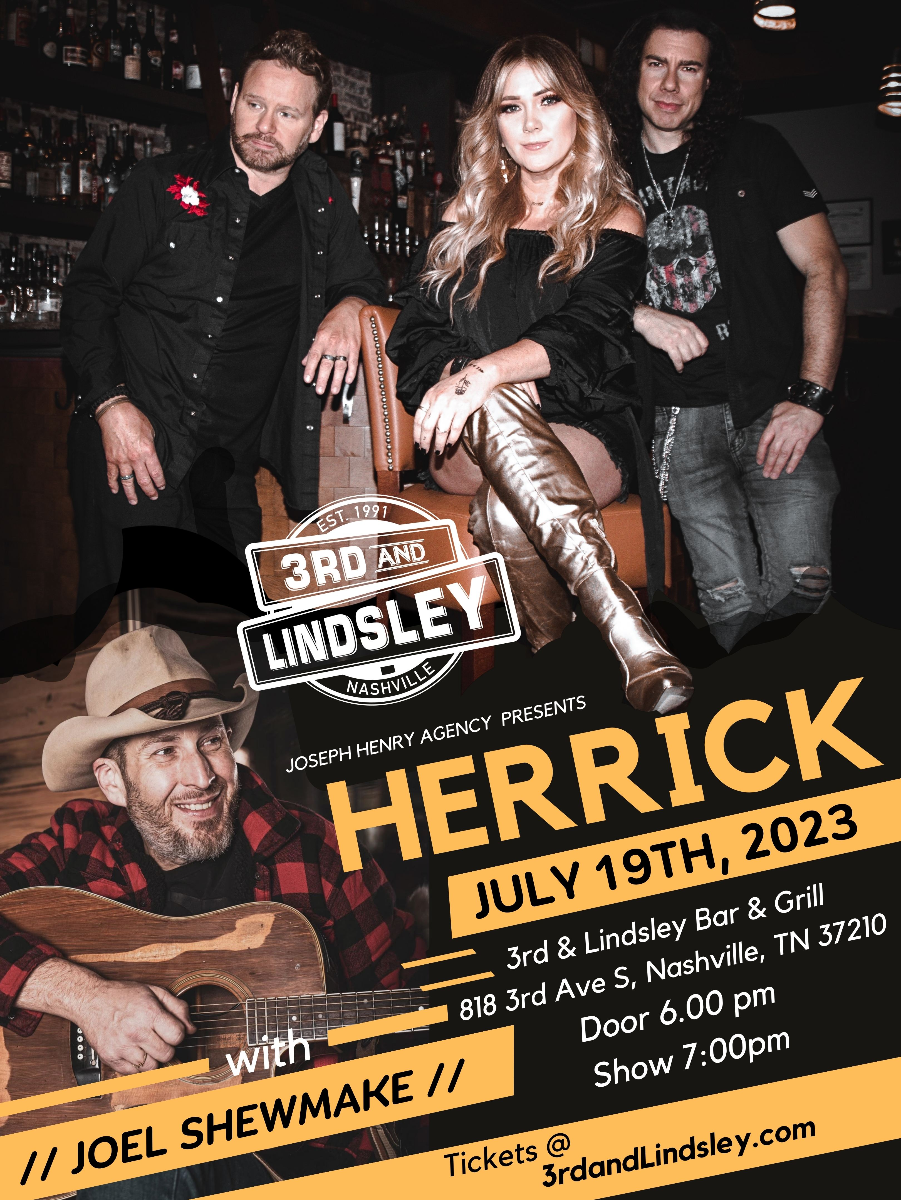 Herrick
With hard work and grit, Herrick has worked their way up to high praise. CDX Nashville Recording Artists Herrick are not your everyday musical story. Some of the most coveted music critics hover around Herrick with regularity. Over the years critics including music historian Robert K.
Oermann of Music Row Magazine and award-winning journalist Chuck Dauphin of Billboard Magazine, both citing Herrick as "the real deal." Chuck Dauphin continued by saying "Herrick may very well contain the next great female voice of this generation in Donna Herrick."
The band boasts an impressive list of music awards including three IAMA International Acoustic Awards, "Folk/Bluegrass/Americana "Group of the Year ," and most recently, 2 time " Indie Entertainer of the Year" and "Indie Female Vocalist of the Year.
https://www.Herricklive.com
Joel Shewmake
Organic country singer/songwriter Joel Shewmake discovered his musical talents at the age of 14 while growing up in Cookeville, Tennessee. He moved to Nashville in January 2001 with the influences of Don Williams, Merle Haggard, John Anderson, and Bob McDill. After landing his first publishing deal with BMG in 2001, Joel played countless songwriters nights and at first hand, experienced the gamble of a songwriting career.
In 2006, he signed a publishing deal with Amylase Entertainment and has since enjoyed the success of cuts by artists such as Craig Campbell, Gary Allan, Montgomery Gentry, Trace Adkins, and Brad Paisley.
Joel is known for crafting songs that stay true to his country roots, but don't let this simple country boy fool you; his songs pack an unforgettable punch. https://joelshewmake.com