Michelle John: Diva Songbook
GBP39.00 - GBP149.00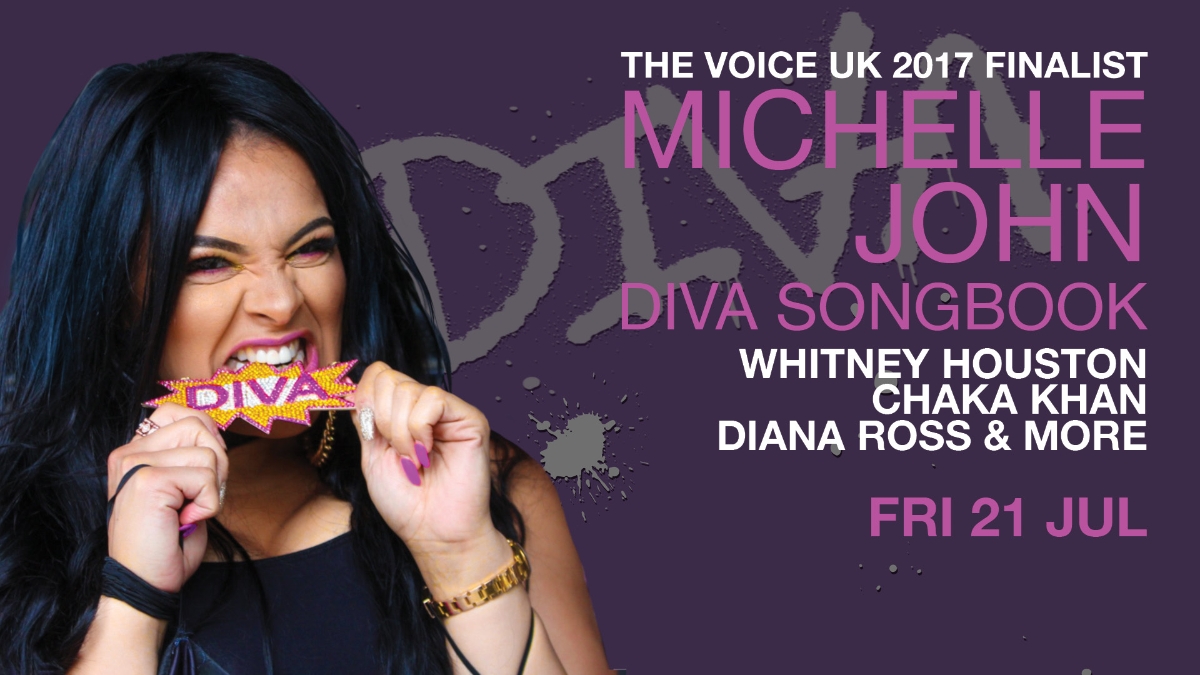 A night of an electrifying collection of songs with cover songs from divas that we know and love including Whitney Houston, Chaka Khan & Diana Ross. If you have ever experienced Michelle sing then you'll know that you're in for quite a ride and you will leave agreeing with Will.I.Am, Jennifer Hudson and Sir Tom Jones that she is indeed a diva!
Michelle John was born to sing. Whether it was singing as a child in her local Gospel Choir , or recording and touring with such stars as George Michael , Annie Lennox , Mariah Carey and Eric Clapton .
Michelle's vocal dexterity has allowed her to work with artists covering the whole music spectrum, from R&B Diva Whitney Houston to the Legendary Tenor Andrea Bocelli .
Her expertise has helped to craft the voices of tomorrow through her vocal coaching on Pop Idol and with artists such as Razorlight , Girl's Aloud, Atomic Kitten , Liberty X , Mis-Teeq Bryan Mc Fadden and Westlife
She has toured with Will Young on his last 3 U.K Tours , and the opportunity to perform with Herbie Hancock and Sheryl Crow , recorded with the phenomenal Lenny Kravitz and recently performed at a concert for President Barak Obama at The White House.

Michelle had the pleasure of being the Vocal Coach for the artist Rita Ora for a few years and was a contestant on " The Voice UK 2017 " where as on Team Will.I.am she finished as a Finalist in 4th place

Michelle delivers every time, her signature powerhouse vocals, guarantees an evening of sincerity, emotion, laughter and joy.

Bar and heated Terrace available for pre/post-show drinks!

BOISDALE of Canary wharf
https://youtu.be/KDdutzlPljU
Jools Holland is Boisdale's Patron of Music presenting the very best in jazz, blues, reggae and soul and occasionally rock'n'roll. Boisdale of Canary Wharf is a two-floor venue overlooking the fountains of Cabot Square, which comprises an award-winning restaurant, four private dining rooms, Hine Bar & Garden Terrace, the world's most extensive whisky bar, and a stunning walk-in cigar humidor.
"London's number one jazz venue"
Tatler
"Best Whisky Bar in the World"
Whisky Magazine
"A carnivore's dream"
Evening Standard
"Aged steaks are deemed incredible"
Square Meal
"The world's most individualistic style bar & restaurant"
Hot Tickets
MENUS
FOLLOW US:
Facebook:
https://www.facebook.com/BoisdaleRestaurants
Instagram:
https://www.instagram.com/boisdale_restaurants
Website:
http://www.boisdale.co.uk