Frankie DoWop Presents: The FunKtion
$20.00 - $35.00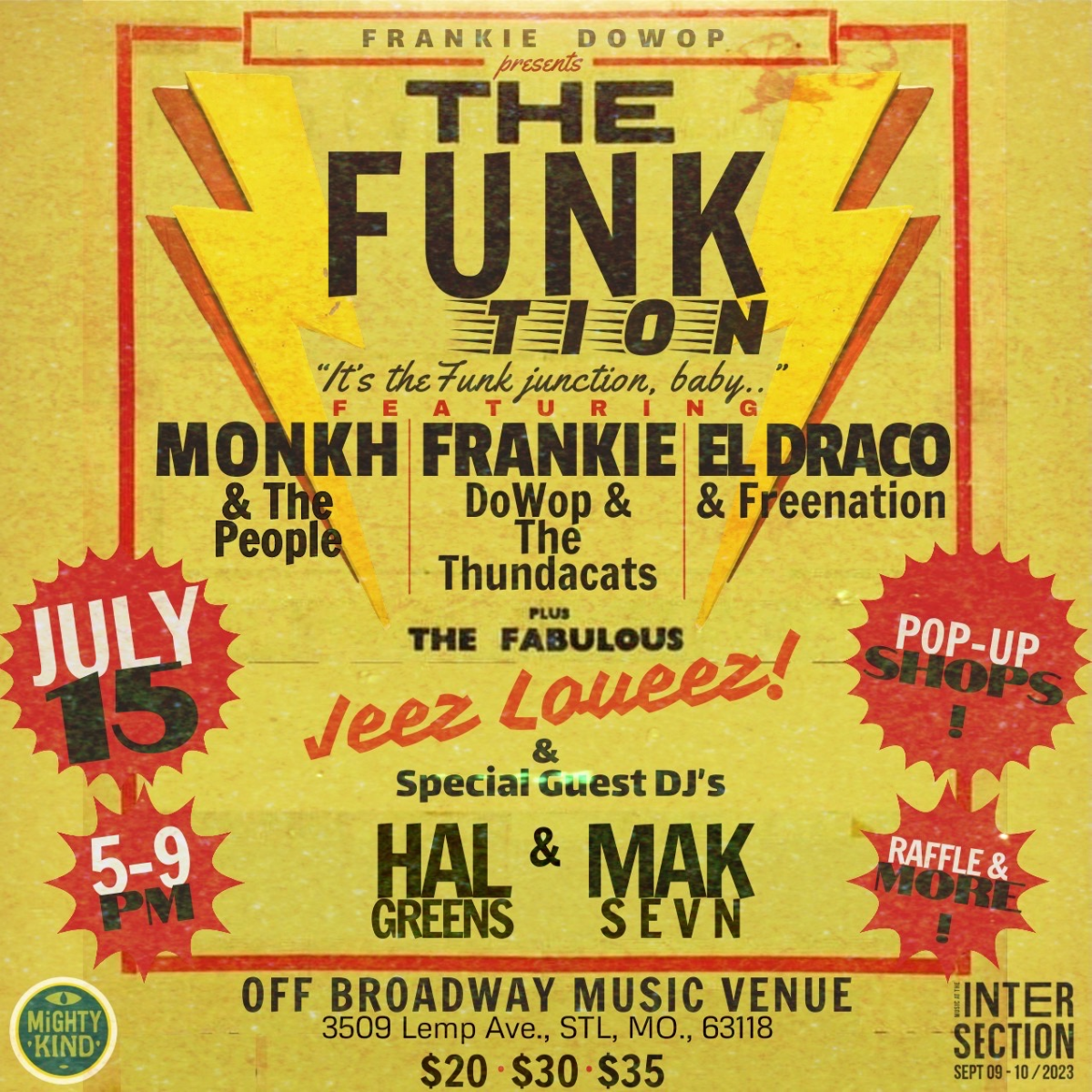 Saturday, JULY 15, 5-9PM
Off Broadway Music Venue
Gen admission- $20
Admission w/raffle ticket- $30
Admission w/raffle ticket & drink ticket- $35
RSVP: The FunKtion
- What is The FunKtion? -
Not "just" a Funk show!
The FunKtion is a mini festival intentionally designed to be the new, yearly meeting place for Funk artists to shine in an experience tailored specifically for them, and lovers of Funk alike.
It's St. Louis' new Funk junction..
The meeting place of inspiration past and present, of different sounds, and different folks with different strokes.
The FunKtion is an invitation!
Calling all lovers of Funk!
Calling all Funk artists!
The FunKtion is the new mothership. Let's ride.
This year's inaugural night will include LIVE performances by;
Monkh & The People
Frankie DoWop & The Thundacats
El Draco & Freenation
DJ sets by:
Hal Greens &
STL Funk OG Mak Sevn, formerly of Morris Day & The Time
And will be hosted by St. Louis native, and the funkiest international burlesque icon currently living JEEZ LOUEEZ
In addition to live performances, folks getting down in The FunKtion will be able to shop with St. Louis Artists Tiana Bojorquez (painter) & Harry Boston (photography)
Get new vintage digs with Good-Ish Vintage of St. Louis
Enjoy the evening alcohol free thanks to Mighty Kind
And participate in a raffle, which features gifts from Mighty Kind, Good-Ish Vintage, art from local artists, and tickets to MUSIC AT THE INTERSECTION.
**ALL TICKET SALES are direct support for The FunKtion, the artists and Off Broadway Music Venue**
$20- general admission
$30- entry, one discounted raffle entry
$35- entry, one discounted raffle entry, drink ticket
Raffle tickets sold individually are $12
You may purchase as many raffle tickets as you like to increase your chance of winning, but each winner will only receive one prize.