FITZGERALDS Presents:
GHALIA VOLT
$15 - $20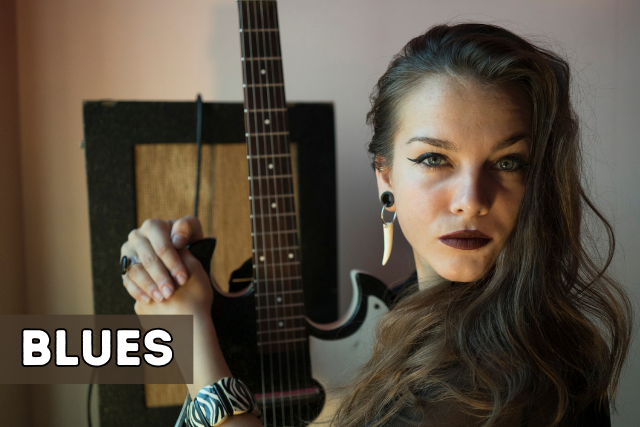 FITZGERALDS NIGHTCLUB PRESENTS:
GHALIA VOLT seen HERE.
$15 General Admission / Reserved Tables Available
Never underestimate the power of a woman with her back to the wall. In March 2020, as Covid blew across the planet, the shutters came down on live venues and recordingstudios, and the music scenefellsuddenly silent,Ghalia Volt faced the same dilemma as every otherartist. What now?
The answer was One Woman Band.
For Volt, the rebirth as a solo performer wasn't a decision made lightly. Since the early days, she's been amusician who thrives on the buzz of the hook-up, surrounding herself with the best players and soaking uptheir vibe. Back in 2017, it was the Belgium-born songwriter's taste forcollaboration that led her to New Orleans, for the meeting with local blues legends Mama's Boys that became her smash-hit debut album, Let The Demons Out.
Two years later, it was that samespirit that luredVolt to the fabledhill country of Coldwater, Mississippi, to hold her own at second-albumsessions with greats likeCody Dickinson, Cedric Burnside, Lightnin' Malcolmand Watermelon Slim.
With the breakout success of 2019's Mississippi Blend – a record that broke into the Top 3 of the Billboard Blues Chart on three separate occasions – it seemed the world was Volt's for the taking,her seven-year transformation from Brussels busker to the adopted daughter of American rootsgathering pace. Now, with One Woman Band, the journey takes a thrilling left-turn. Ifher apprenticeship on the mean streets taught Volt anything, it's thatshe alreadyhadeverything she needed to make magic – and in March, she reconnected with that one-woman philosophy. "I started playing on a real drum set," she recalls."Playing a kick, snare and hi-hat plus a tambourine with my two feet, while playing slide/guitar and singing at the same time."
Grab dinner before the show at BABYGOLD BARBECUE (link to restaurant website)
Or enjoy full service dining inside the club when doors open.
***PARKING***
There is rather limited street parking in the area, we recommend arriving by rideshare, bicycle, or rickshaw.
***AGE RESTRICTIONS***
21+, minors admitted with guardian