The Women of Country Presents: Carolyn Miller & Friends
$15.00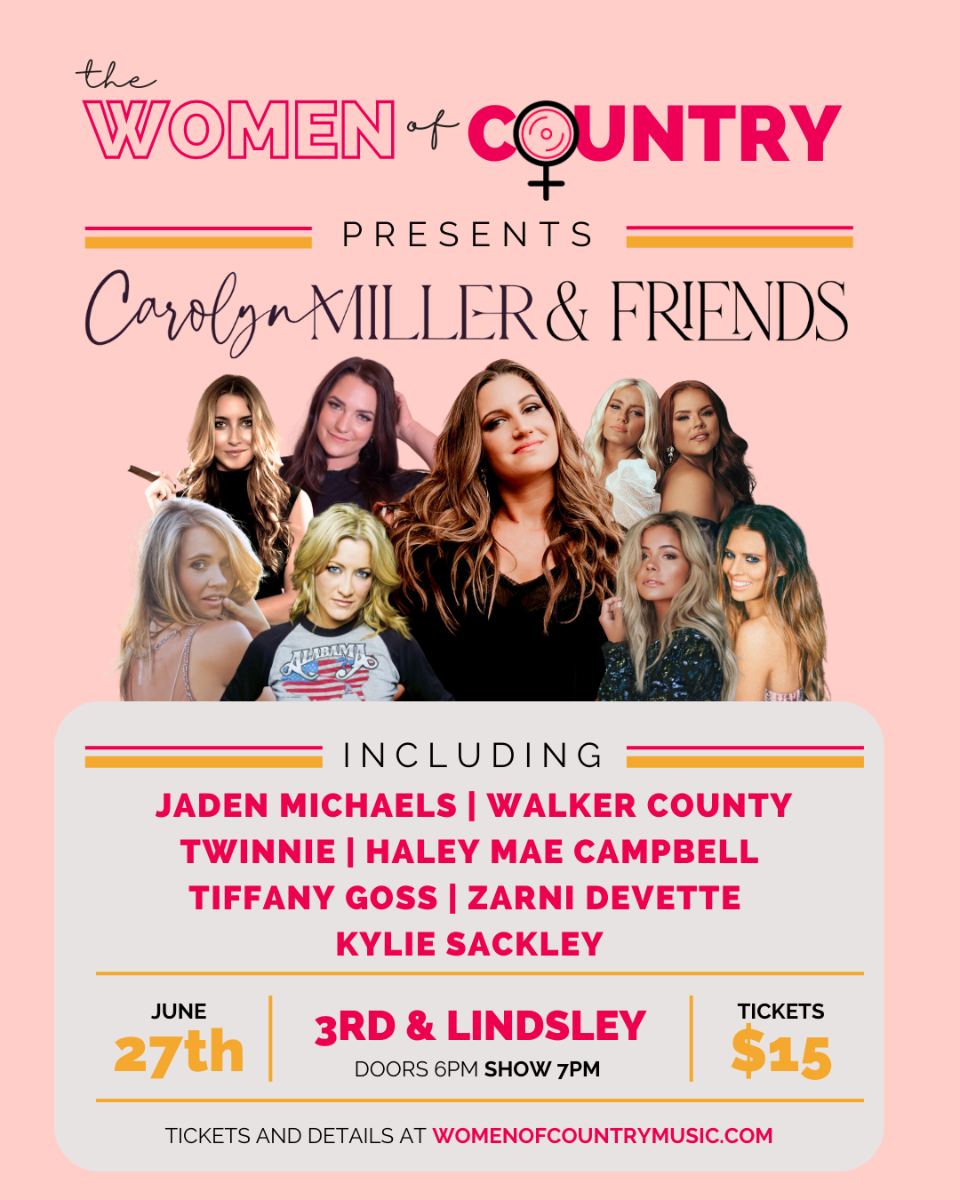 ABOUT THE SHOW:
Nicole Marchesi, founder of THE WOMEN OF COUNTRY, wanted to provide female country artists and songwriters with an opportunity to showcase their original music to Nashville executives and fans alike. Opportunities that were primarily given to men.
Country artist CAROLYN MILLER had a similar mission and after coordinating a takeover during CMA Fest '22, she was intent on turning this coveted real estate into something even bigger. Together they decided to host an all-female showcase and... the rest is history!
Their debut showcase featured a hit lineup, packed house, and rave reviews, so they thought, "Why stop here?" and decided to turn "The Women of Country Presents: Carolyn Miller & Friends" into a regular occurence empowering the female country community.
"What kicked off during CMA Fest as a way to showcase the amazing female talent within the Nashville music community, quickly blossomed into one of the hottest monthly showcases in town by wowing crowds with tremendously talented lineups that solidified the show as the can't miss place to be" - Today's Country Magazine

ABOUT CAROLYN MILLER:

A background in show biz and an upbringing on Long Island, NY is not the typical recipe to breed a rising country star. A graduate of The Boston Conservatory at Berklee College of Music, CAROLYN MILLER has been performing professionally since the age of 8 in theatre, film and TV, as well as voice-overs and commercials. Influenced by country music artists like Carrie Underwood and Faith Hill, along with pop icons Kelly Clarkson and Adele, Miller has used her big, powerful voice to create her own style that captures the true essence of country-pop. Through her hustle, grit, and determination, Miller has not only headlined/sold out numerous shows around the northeast, but has gotten on some of the biggest festival stages nationwide (Barefoot Country Music Fest, Summerfest, Carolina Country Music Fest) and toured with country superstars (Lee Brice, Walker Hayes, Chase Rice, Ashley McBryde, Eli Young Band). Splitting residency between New York and Nashville, Miller has already begun to make a name for herself in Music City, being tapped "One to Watch" by the Nashville Songwriters Association International (NSAI) and named a Next Up Now artist by CMT...all while redefining what it means to be "country."

ABOUT THE WOMEN OF COUNTRY
The Women of Country was founded in 2015 amid the "Tomato-gate" by Nicole Marchesi. Our mission is to evolve country music into an inclusive space for artists of all races, genders, and sexual orientations to be heard on the radio, in award shows, and at the top of the charts. The Women of Country provides support to female artists through social media, playlist adds, written articles, and live shows. Our community of 32.8K followers across all platforms includes fans and artists such as Ashley McBryde, Sara Evans, Brandi Carlile, Shania Twain, and Tanya Tucker.