Strawberry Sun, Summer Fling, AsthaZylah, Kamila Kay
$12.00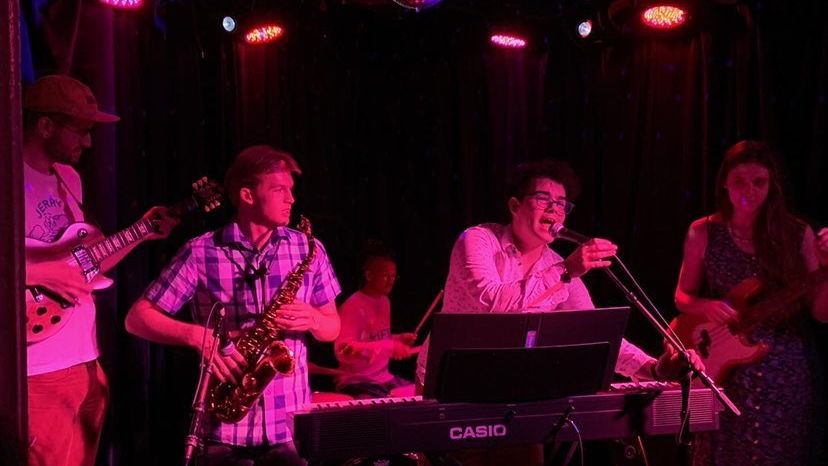 Strawberry Sun
Strawberry Sun is a 5 piece jazz fusion collective formed in 2022. They originated as a busking act frequenting Strawberry Fields in Central Park. After solidifying their lineup, they began playing their unique blend of jazz fusion, funk, and psych rock at venues across NYC. The band often features a variety of guest vocalists, enhancing their versatility and fostering a community of ambitious up and coming musicians. In early 2023, the band continued to refine their sound and recorded their debut EP, Strawberry Sessions Vol. 1, set to release in late 2023.
Summer Fling
Summer Fling is a conglomerate of young musicians based in New York, who play a high-energy mix of funk, rock, and pop. Originally brewed in Larchmont, NY, this band of fools is made up of vocalist Eddie Kam, electric guitarist Evan Macaluso, bass guitarist Dani Johnson, trumpeter James "Jimbo" Worsey, along with an eclectic array of guest instrumentalists. Chiefly comprised of jazz students at various NYC conservatories, this formidable gang loves performing covers and impersonating Bowie and Springsteen as much as they love releasing and sharing original tunes from Communal Bathhouse Records.
AsthaZylah
AsthaZylah is a multidimensional Nepali-American artist currently based out of Boston, MA.
Kamila Kay
A Florida-born old soul, Kamila Kay is a singer, songwriter, and producer. Writing poems and lyrics allows her to calm her somersaulting mind and gauge some truth. She grew up listening to others do so in song, and cites artists like Sara Bareilles, Laura Izibor, Amy Winehouse, India.Arie, and Victoria Hart as some of her earliest influences. Though classical piano and musical theatre were her first loves, these days she sings the wordy, painfully honest songs she writes, and accompanies herself on the keys. Her music is pop with a throwback feel, and she takes inspiration from funk, soul, and indie rock. She is based in New York City, and finds meaning in connecting with others through music. She hopes to make listeners feel seen, hopeful, and less isolated in their own thoughts and experiences.
She released her first single, "Crushin," in February 2023, and is currently working on co-producing her first ever EP.