£1 Gig Night w/ Blue Orchid Reaction // Windsor Knots // The Petticoats
GBP1.00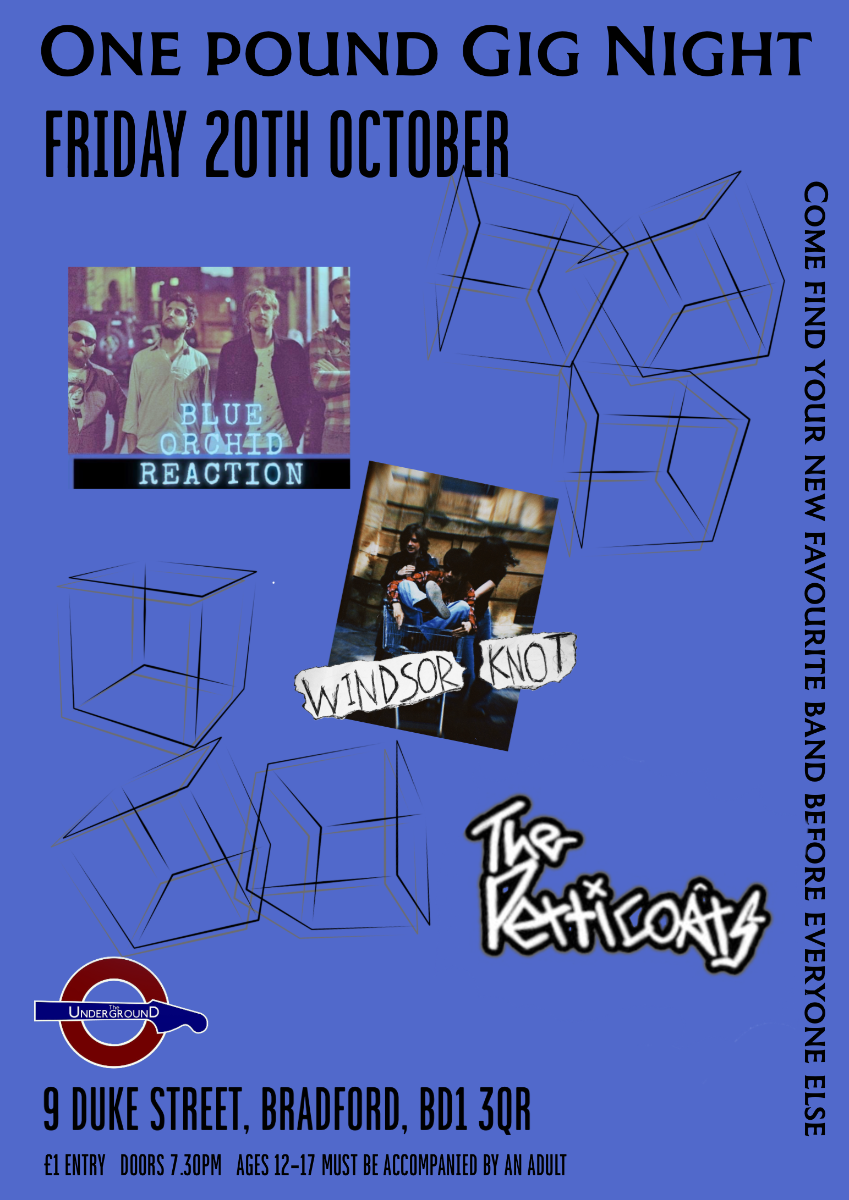 £1 Gig Night is a unique concept, creating preformance & developnment opportunities for emerging grassroots bands. Support £1 Gig Night to support the development of local bands & the local music scene.

Blue Orchid Reaction are a Yorkshire-based indie/alt-rock band. High-quality songwriting is evident with their strong output from the Four Chord Theory Ep, to the singles Sunset Claims, Personal Revolution and, the current single Atmosphere.
BOR are made up of Paul (guitars/vocals), Dominic (bass/vocals), Matt (guitar), and Alex (drums). Blending genres based upon their passion for all music, they have created a unique twin vocal style with playful song structures that are uniquely their own.
"An indie rock band, which, in my humble opinion, is something of an understatement...it's clear that this is a band who write and play music influenced by the music they love. And they play really well . Be entertained – come away impressed by the songwriting depth and playing" Local Sound Focus 20th November 2021
"You can hear the exquisitie song writing from the outfit" RGM : Reyt Good Magazine - The Playlist April 2020
"The EP (Four Chord Theory) as a whole is fun, it's fresh, and the release date is perfect considering that these tunes are made for this time of year." Musenew April 2020
"All in all the band have presented a brilliant set of recordings, it was a pleasure to have indulged in it personally and I hope everyone else has the same experience I had if not better." IReviewYourBand, Feb 2020.
Windsor knot
Windsor Knot a 3 piece Alternative, Indie Rock band from Bradford. Oliver (vocals, guitar) Pluto (bass, b. vocals) Evy (drums)
The Petticoats
Melting together indie, punk and hard rock, The Petticoats bring a sarcastic merging of genres delivered with pure energy

£1 entry (plus booking fee, if booked in advance). Age 12-17 must be accompanied by some age 18+